Celebrate Spring with grilled maple-mustard salmon topped with a delicious corn and basil relish. This recipe is easy enough for a weeknight, but fabulous enough to be the centerpiece of a weekend dinner party.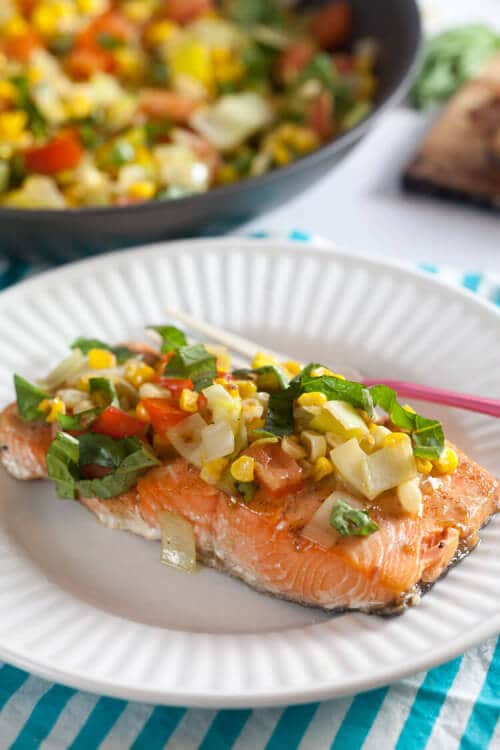 I impulsively bought a huge bag of frozen salmon filets a few weeks ago. I figured they'd be great for easy weeknight dinners like my two-minute salmon teriyaki. They are, but I've been looking for different ways to use them, too. This maple-mustard salmon with corns and basil is quickly becoming a favorite. It's full of flavor, but it's so easy to make!
I grill the salmon on cedar planks to infuse it with a subtle woody flavor and top it with a quick vegetable sauté. The flavors are bright and fresh and I love way the corn pairs with the fresh basil and sweet and tangy salmon. It definitely reminds me of something you might get at a nice restaurant. Plus, if you keep a few pre-soaked cedar planks in the freezer, it only takes a few minutes to pull together!
Like the pan-roast chicken with salsa verde and spring vegetables that I shared earlier this month, I'm sharing this recipe over on the Circulon website, so be sure to head over there to check it out!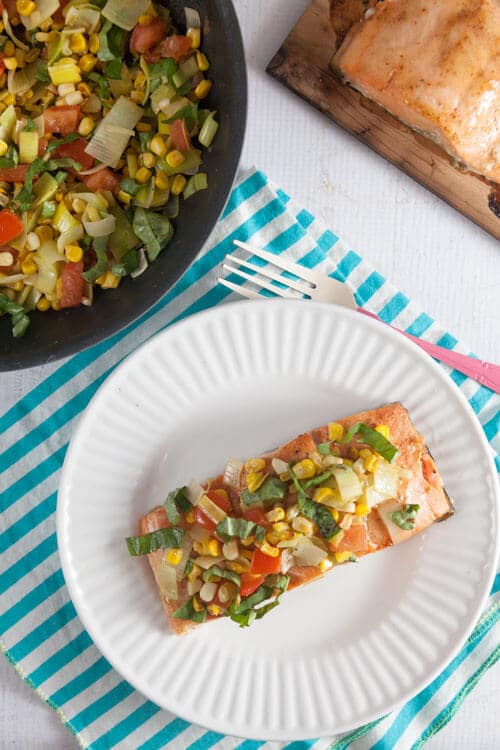 To cook the corn and leeks, I used the Circulon® Innovatum 10-inch skillet, which is part of their new Circulon® Innovatum line that just launched at Target. I got a sneak preview of the new cookware, and have been using the hard-anodized set for about a month now. I like it a lot! It features Circulon's patented TOTAL® Nonstick System, with raised nonstick circles and I haven't had a single thing stick. It's pretty impressive. It's also dishwasher safe, which is always a major plus, and oven safe (up to about 400º).
The open-stock pieces are nice and big, but the sets are on the smaller side so they're perfect for new college graduates or young couples. They're the perfect size for cooking for 2-4 people and they don't take up too much space in small kitchens (I keep thinking they would have been perfect in my first apartment!)
Want to check them out for yourself? I'm giving away another set, plus a $50 Target giftcard that you can put toward some of the open stock pieces (I LOVE the 12-inch open deep skillet!). The cookware comes in three finishes: hard anodized, stainless, and red porcelain enamel. Check them out, then enter to win a set of your choice using the form below!
Get the recipe!
This post was sponsored by Circulon®. I received a set of cookware and was compensated for developing a recipe for them.