Chocolate truffles stuffed with maple cream and topped with candied bacon… what more can you ask for?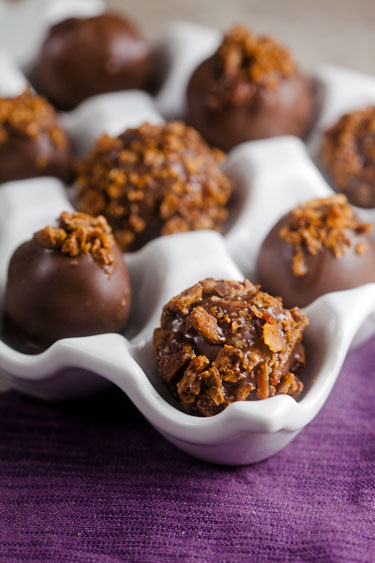 Yesterday's Lemon Ginger Scones were all about me and the kind of baked good that might make me swoon. These Maple Bacon Truffles were created with Shawn in mind. That's not to say that I didn't enjoy them too – they're pretty awesome – but the look on his face when I set down a platter of truffles and a glass of whiskey? Priceless.
I've been looking for an excuse to make chocolate truffles ever since the chocolate making class I took last fall, so when Jones Dairy Farm suggested that I might try using bacon in a Valentine's dessert, it didn't take me long at all to figure out what I wanted to make. Of course I wasted the better part of a week trying to perfect a chocolate and banana ganache before switching gears and deciding to go with a maple filling instead. The ganache tasted amazing, but I was having some pretty serious textural issues with it. It's all for the best tough because oh boy… this maple filling is dangerous! It's basically a cross between maple sugar candy and maple fudge. It's crazy sweet and super maple-y and it pairs really, really well with the smokey, salty bacon.
(Nutritionally, these are just about on par with commercial truffles, butI'm not even going to pretend for a second that they're healthy. They're delicious little balls of sugar and fat and are definitely a once a year treat that are best shared. I'll get back to healthy recipes next week – promise!)


I created this recipe for Jones Dairy Farm. Thank you for supporting the brands that keep me inspired in the kitchen.