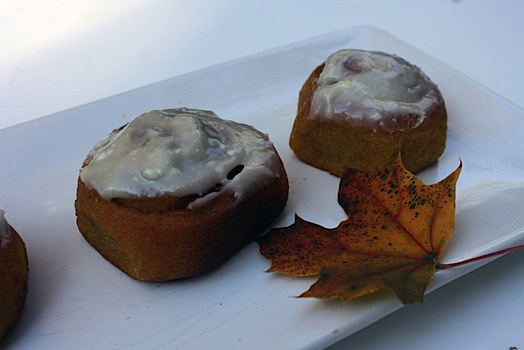 People often ask me where I get my inspiration in the kitchen. It's a hard question to answer, because it comes from all sorts of places. Sometimes its a simple as a restaurant menu, a childhood memory, or a random item that catches my eye in the grocery store. Other times it's a little more random – a color, a texture, a feeling. The inspiration for these pumpkin cinnamon buns came from a question. Someone on twitter asked how they should use up some leftover pumpkin cream cheese icing. My mind immediately went to cinnamon buns. Pumpkin and cinnamon goes so well together, and I thought pumpkin cinnamon buns sounded fabulous. I did some research, attempted a few recipes, and finally came up with a pan of buns that I couldn't keep my hands off of.
In addition to these being dangerous since they're so difficult to resist, there were a few other things that I would have like to have come out differently. I wanted soft, flaky Cinnabon-style buns, but substituting pumpkin for the butter results in a more bread-like dough. To get flaky rolls, you need a lot of butter. It works on the same premise as croissants or pie crust – butter is worked gently into the dough, and melts when it get heated, leaving behind pockets of air. Pumpkin doesn't melt the same way, resulting in a denser final product. On the plus side, cutting out all of that butter also means cutting out a lot of fat!
That being said, these cinnamon buns are a fun weekend project that will make your house smell fabulous. They can be frozen before baking (just add a few minutes to the baking time) and also keep really well in an airtight container after they're baked, so they can be made ahead. If you have guests coming in for Thanksgiving, these would be a great breakfast treat!
Pumpkin Cinnamon Buns with Cream Cheese Icing
1 cup fat-free milk

2.5 tsp yeast (2 envelopes)

1/2 cup granulated sugar

1/4 cup pureed pumpkin

1 tsp salt

2 eggs

4-1/4 cups flour

3/4 stick butter, divided

1/2 cup brown sugar

1-1/4 tsp ground cinnamon

4 oz low-fat cream cheese

1/4 cup powdered sugar

1 drop of vanilla extract
Heat milk in a microwave for 30 seconds, or until luke-warm. Add the yeast and a pinch of sugar. Stir and allow the yeast to proof for 5 minutes – the yeast should grow and become foamy. If it doesn't, discard and start over with new yeast.
In a large bowl, combine the pumpkin puree with the remaining granulated sugar and the salt. Beat in the eggs until incorporated. Add 2 cups of flour and beat until combined. Beat in the milk mixture, being sure the include any yeast that settled to the bottom. Slowly add the remaining four.
Cover and let rest in a warm place until doubled in size – about 1 hour.
Divide dough into four pieces. Working with one piece at a time, roll the dough into a large rectangle, about the size of a cookie sheet. Transfer to a cookie sheet and stick it in the freezer. Repeat with remaining four pieces of dough.
In a small bowl, blend 1/2 stick butter, brown sugar, and cinnamon. Divide the cinnamon mixture between the four sheets of dough, spreading it in a very thin layers. Roll the dough up, starting with the long edge. Cut each dough log into 12 slices (each will be about 1-inch thick). Transfer to a large roasting pan (I recommend lining the pan with a silpat or some parchment paper for easy clean-up), leaving a little bit of room between each roll. Cover and let rise for one hour.
Bake at 350 for 30 minutes.
Combine the cream cheese, 1/4 stick of butter, powdered sugar, and vanilla extract. If desired, you can thin this mixture out with a splash of milk.
Remove buns from the oven and allow to cool for 10 minutes before frosting.
Yields 4 dozen buns.
Each bun contains Approx: 85 calories, 2 grams fat, 0.5 grams fiber, 2 grams protein