Individually-sized blueberry crisps are an easy dessert that's perfect for late Spring. This recipe gets a Southeast Asian flair from lemongrass and ginger. Using coconut oil instead of butter in the crisp topping means this dessert is also dairy free and vegan!

This blueberry crisp with lemongrass and ginger is one of the best things that has come out of my kitchen recently. It's sweet (but not too sweet), a little bit spicy, and loaded with a double portion of juicy blueberries. Since crisps can be messy to serve, I baked this recipe in individual portions. Top them off with some coconut milk ice cream and dig right in!
This recipe makes four single-serving crisps, so it's perfect for sharing. Of course, you can also keep them all to yourself. The leftovers are delicious straight from the fridge – no need to reheat!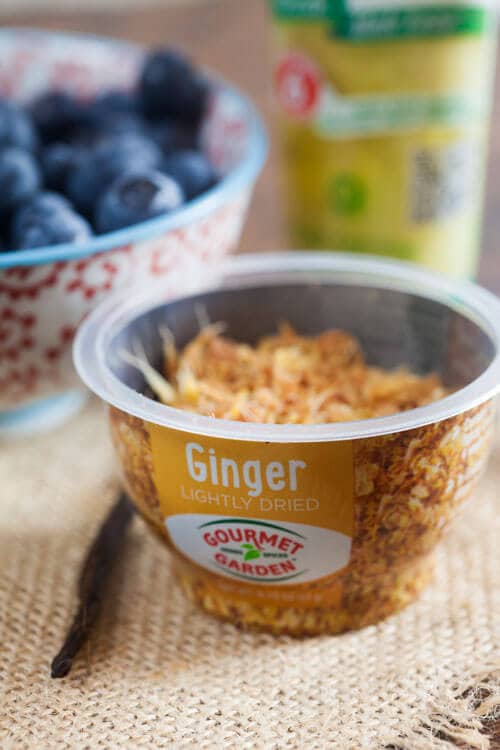 I used ginger from Gourmet Garden's new lightly dried line in the topping of this crisp – it adds tons of flavor and a little bit of a spicy kick to the dessert. The topping reminds me a little bit of ginger snaps, which are one of my favorite cookies.
I was introduced to these at a retreat last fall and have been impatiently waiting for them to become available here on the East Coast. I finally got my hands on some, and quickly fell in love. Like their line of herb pastes, the lightly dried herbs are super convenient, taste super fresh, and keep for about a month in the refrigerator. Unlike the pastes, they're great for garnishes (they're chopped into larger pieces) and in recipes where you don't want to introduce oil or other liquids. The basil is my favorite but I also love the convenience of the lightly dried ginger.

Normally I like to add lemon zest to my crisps, but for this recipe I decided to use lemongrass paste from Gourmet Garden's original line. Paired with the ginger in the topping, it gives the blueberry crisp a completely different vibe than normal. The flavors are really bold and fragrant – I wish you could smell it through the computer screen! The lemongrass adds a nice citrus flavor to the filling without any bitterness. It's a really unique flavor and we loved it.
Since lemongrass doesn't have the same acidity as lemons, I still added some lemon juice to the mix. The acid keeps the blueberries vibrant and prevents the pigments from leeching out into the sauce (just a little trick I learned in culinary school!) The crisps will still be delicious without it, but the color of the filling won't be as vivid.
I created this recipe for my client, Gourmet Garden. I've been using their products in my kitchen for years! Learn more about them on Facebook or follow the on Pinterest for recipe inspiration.