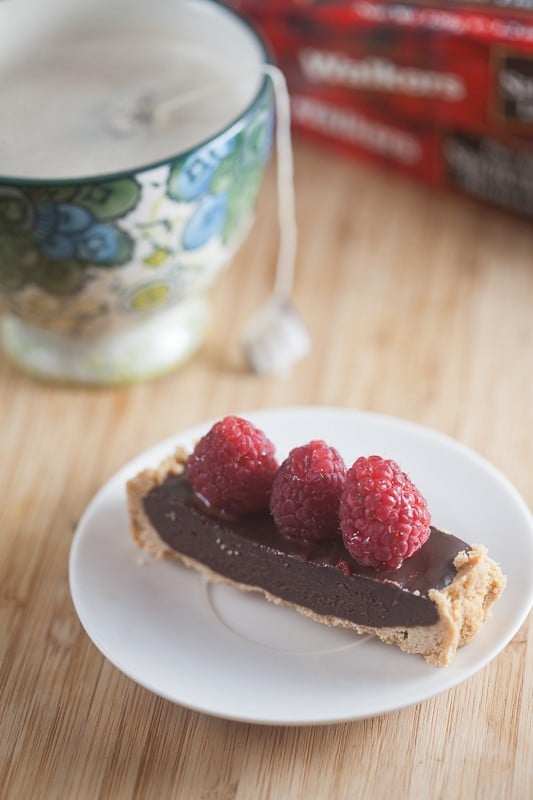 This time of year, it seems like there's an occasion for a fancy party every time you turn around. Graduations. Mother's Day. Bridal showers. Baby showers. Wednesday night. Ok, maybe not Wednesday night… although with a cup of tea and a slice of this decadent tart, it might seem like a special occasion. Of course, it's perfect for all of those other situations too.
The crust, made from pulverized shortbread cookies, is light but intensely buttery. The dark chocolate ganache filling is rich, rich, rich and velvety smooth. It's sweetened with just a smidge of honey and infused with a touch of lavender – not so much that it tastes like perfume, just enough to give it a subtle hint of springtime flavor – and it literally melts in your mouth (and on the counter if you leave it out and your house it too warm.) Top it all off with some fresh raspberries and grab some friends to share it with. A little bit of this goes a long way, so there's plenty to go around.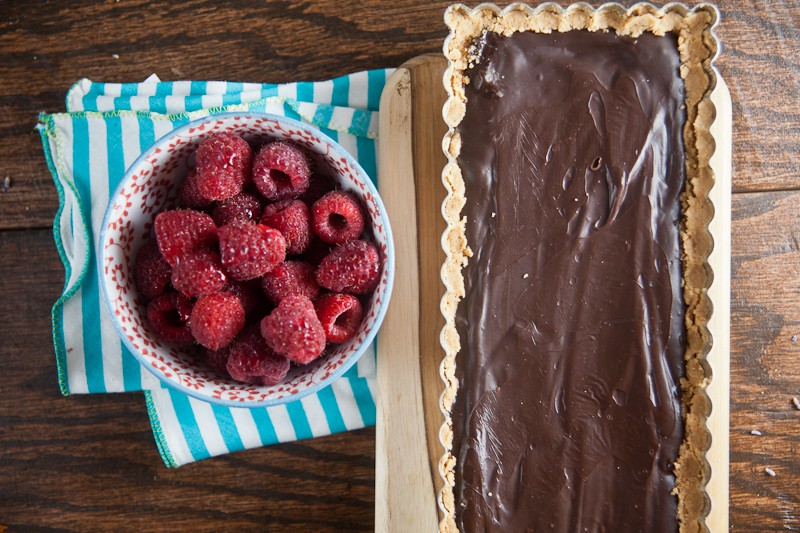 I recently signed on as a Blogger Ambassador for Walkers Shortbread, and I'm really excited about this partnership. I'll be honest – when they first approached me, I said no. But as I talked to them more, I could tell that they were really passionate about their product. And their passion totally rubbed off on me. I've always known that Walkers is delicious, but I didn't know that the company is still run by the same family that founded it in 1898, that it's made with butter from free-range, grass fed cows, or that the company is committed to baking without GMO ingredients, artificial flavors/colors, or preservatives. In fact, their original shortbread only has four ingredients (butter, four, sugar, and salt) – the cookies I make in my kitchen are more complicated than that! It's no wonder that they taste so good! (Yup, I totally drank the kool-aid. BTW, they aren't paying me to say this, although they did send me some cookies.)
Walkers also gave me a code for 20% off full-price items: HDSpring. It's good on their website, WalkersUS.com, until May 24. There are all sorts of fun things on there, so be sure to poke around! (Also, try the stem ginger shortbread. OMG!)


This post was written as part of the Walkers Blogger Buzz Ambassador program. I did not receive monetary compensation, but I did receive cookies to help inspire my recipe.