Thank you all for your support in trying to get my cioppino into the top 3 Bertolli Menu Items so I can share it at the Foodbuzz Festival later this week. Voting is now over and the final results are being tallied, but it's looking pretty good! 🙂 I promised you that I would share my other entry – the one that wasn't chosen to be on the menu – and thought that today would be a good day to share. Following my theme of "not Italian," I decided to make some meatballs with a Middle Eastern flare. These tender lamb meatballs are flavored with a touch of cinnamon and simmered in a cumin-scented sauce. I served the over a bed of spaghetti squash and wilted spinach and topped them with some sauteed onion. I really liked how this looked just like traditional spaghetti and meatballs, but tasted nothing like it! I also thought that adding the cumin to the sauce was a nice way to transform jarred sauce into something a little more special. As with the cioppino, I thought that this was a strong entry, but I agree with the judges that the cioppino was slightly better. Shawn preferred this dish.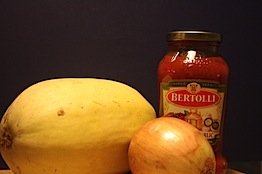 Spaghetti squash is really fun, and I'm always excited when I start seeing them pop up in the store again. When you cook it, the fibers of the squash separate into long strands that look a lot like spaghetti. The flavor is milld so it can be prepared in a lot of different ways but one of the most common uses is as a stand-in for spaghetti like I did with this dish. Used as a substitute for pasta, its a great way to lighten up a dish as well as add some more nutrients.
There are a few different way to cook a spaghetti squash, but I've been surprised to se that a lot of bloggers have been roasting them – I prefer to boil mine. I find that boiling the squash whole is a lot easier because it softens that tough outer shells and makes it a lot easier to cut into. Otherwise, you have to battle with a tough squash that rolls all over the place while you try to cut it in half and remove the seeds. So much easier to do that after its cooked! I also find that boiling the squash keeps the individual strands from drying out as much as roasted it does – this keeps them nice and plump, with a softer texture that's closer to spaghetti.
Lamb Meatballs in Cumin-Scented Sauce Over Spaghetti Squash
1 spaghetti squash
1 lb ground lamb
5 scallions, chopped
1/2 tsp cinnamon
1-1/2 tsp cumin, divided
1/2 tsp allspice
1/2 tsp teaspoon salt
3 tablespoons unseasoned bread crumbs
1 egg, beaten
1/4 cup + 1 tsp olive oil
1 jar Bertolli Olive Oil and Garlic sauce
2 Tbs red wine vinegar
1 tsp crushed red pepper
cracked black pepper
1 onion, thinly sliced
2 cups baby spinach, torn into bite-sized pieces
Bring a large pot of water to a boil. Add whole spaghetti squash. Let boil for 30 minutes, or until flesh of squash can be easily pierced with a fork.

Prepare the meatballs: Combine lamb, scallions, cinnamon, 1 tsp cumin, allspice, salt, breadcrumbs, and egg in a large bowl. Use your hands to gently mix – you want everything to be incorporated, but you don't want to over mix it and turn it to mush. Form mixture into rounds approximately the size of golf balls. Heat ¼ cup olive oil in a large, deep-sided sautee pan over high heat. Add meatballs in batches, searing quickly on all sides until they are browned and a thin crust forms – this should take about 2 minutes.

Discard oil. Add all meatballs to the pan, along with the sauce, vinegar, ½ tsp cumin, and black pepper. Bring to a gently boil, then reduce heat and let simmer for about 10 minutes – until sauce thickens slightly and meatballs are cooked through.

Meanwhile, heat 1 tsp olive oil in a small pan. Add onion, and cook over low heat until onion is soft and begin to brown- about 10 minutes.

Cut squash in half and discard seeds. Use a form to gently scrape out flesh – it should come out in long strands that resemble spaghetti. Toss with spinach; allow the heat of the squash to slightly wilt the spinach. To serve, arrange squash and spinach on a plate. Top with meatballs and sauce. Garnish with onions.

Serves 6

Approx. 506 calories, 33 grams fat, 7.7 gras fiber, 21 grams protein (using grass-fed lamb will result in lower levels of calories and fat)




By