Jerk seasoning is one of my secret weapons for nights that I want big flavor but don't feel like spending a ton of time in the kitchen. Its bold combination of allspice, scotch bonnet peppers, and cinnamon can perk up just about anything! Rub it on some pork chops and throw them on the grill or use it as a marinade for smoked jerk chicken thighs – it's basically my favorite flavor of summer.
For these jerk chicken tacos, I poach chicken thighs in a citrusy jerk marinade before topping them off with pepper jack cheese and a pineapple-avocado salsa. The sweet salsa and creamy cheese balances out the heat of the chicken for a sweet and spicy taco that we love!
So, I have a confession to make about tacos. You might have noticed that I make them a lot, but that I almost always use soft tortillas instead of crispy shells. I thought I didn't like hard taco shells, but apparently I was just doing it wrong.
Did you know that you're supposed to bake them? I had no idea! I mean, it says so right in huge letters on the front of the box but somehow I managed to completely ignore that little fact. Duh. It makes a world of difference. The shells get deliciously crisp and if you fill them before you bake them the cheese gets all melty and delicious.
I don't feel so bad since I'm apparently not the only person who didn't know you're supposed to cook the darn things (I found out when I read about it on Baked Bree). If you're in the same boat, definitely give them another try!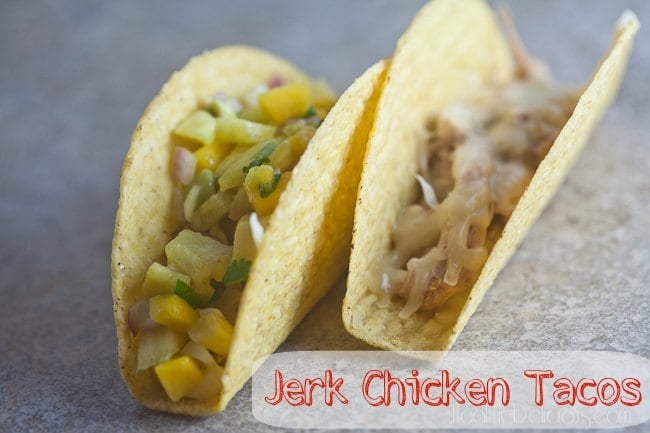 This post was brought to you in partnership with Old El Paso. I was compensated for recipe development purposes. All opinions are my own.