Bonus! This Italian couscous salad is really two recipes in one: one for crispy, spicy toasted chickpeas that are perfect for eating by the hand full and a second for a tasty salad that's great either as a side dish or by itself for lunch.
This couscous salad is packed full of awesome flavors and textures like chewy Israeli couscous, creamy mozzarella, fresh tomatoes, and a simple spinach pesto. Making the chickpeas takes a little time, but aside from that this salad is really simple to throw together. I didn't even pull out the food processor (of course, you can use one if you want to be rewarded with a much more delicate pesto. I was feeling lazy so I just chopped my spinach with a sharp knife. It's a little more rustic, but just as delicious – and one less thing to wash and put away!)
If you're just catching up, this salad is the last recipe in a series that I'm doing called the 10-Ingredient Tabasco Challenge. For the past five days, I've been sharing recipes using various combinations of Tabasco® original red sauce and nine other ingredients (chicken, onions, tomatoes, bacon, whole grains, leafy greens, dried fruit, canned beans, and cheese – with olive oil, salt, and pepper as "freebies.") It was definitely challenging to be limited to those ingredients – I would have killed for an egg – but I'm really pleased with the way all of my recipes came out. In addition to being fantastically delicious, they all taste very different from each other and not just like random foods covered in hot sauce.
(And no, couscous technically isn't a whole grain. But it was listed as an example of one in the challenge instructions, so I'm running with it!)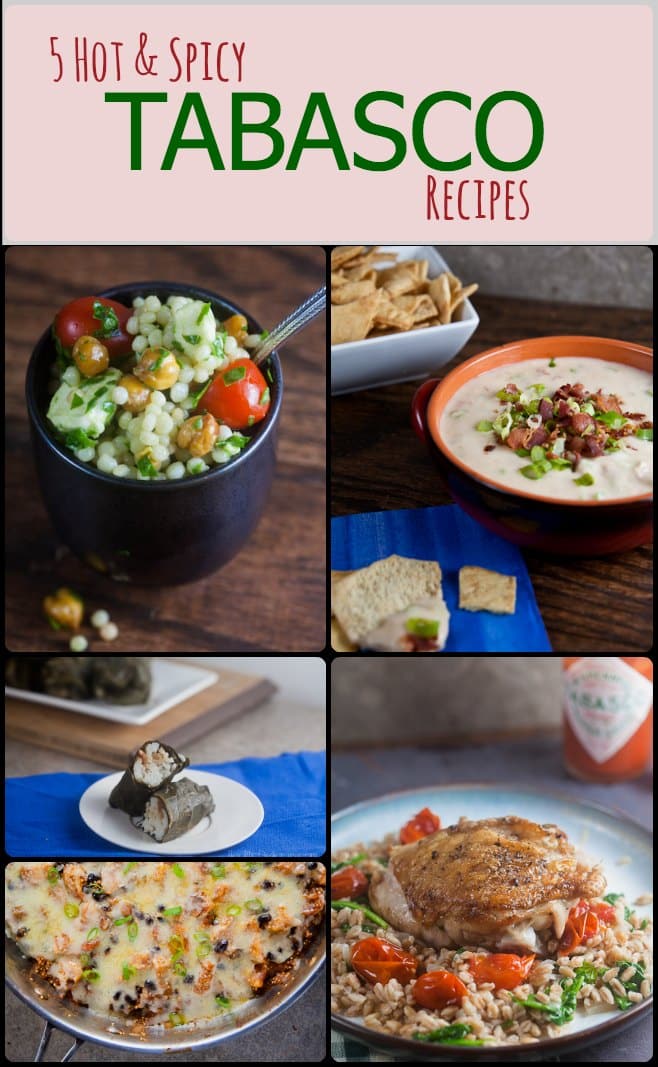 Since I've been posting more frequently than normal as part of the challenge – including over the weekend – I thought I'd do a little recap in case there are some you missed.
1) Chicken Thighs with Farro and Burst Tomatoes: This was the first recipe that I posted for the challenge and is where I discovered how awesome tabasco tasted when you bake it (I borrowed that technique again for today's recipe). This is also the first time ever that Shawn had no only eaten tomatoes, but has actually asked for seconds!
2) Creamy Bacon and Scallion Dip: Simply amazing and so easy to make! This dip is incredibly creamy, and the tabasco adds just the right amount of heat. Plus, how can you go wrong with bacon and scallion? This will be a new staple in our house.
3) Smothered Chicken and Quinoa Skillet: Based on pollo fundido, this is already a fan favorite. I'll be adding this one into our rotation of easy weeknight meals as well.
4) Stuffed Collared Greens: These collard greens, stuffed with sushi rice, shallot, and golden raisins make a great snack. I've also been enjoying them on top of salad.
5) Italian Couscous Salad with Crispy Chickpeas (recipe below): This simple salad is great for lunch. I plan to eat it all week! In case you're wondering, there was no way I was going to get Shawn to try the tomatoes in this one. Raw tomatoes are pushing things just a little too far.


Disclosure: I received monetary compensation to develop recipes as part of the Tabasco 10-Ingredient Challenge.