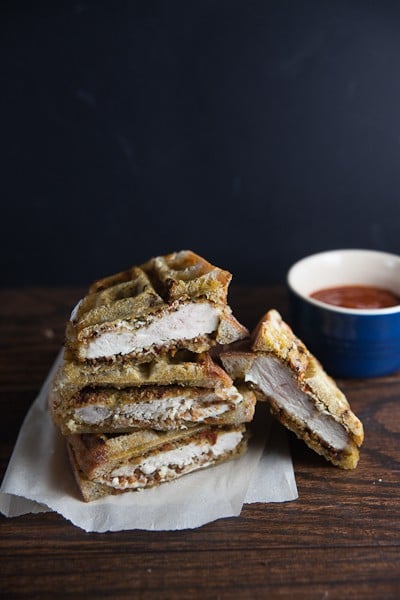 Remember when I made Asian Calamari Salad and I wrote about how it was more of a concept than a recipe? This is sort of like that. Sure, I'll give you a recipe for an insanely good Italian chicken panini. But that's not really the point. The point is that YOU CAN MAKE A PANINI IN YOUR WAFFLE IRON. I mean, what?! Is your mind as blown by that as mine was?
I saw the idea in last month's issue of Rachael Ray's magazine and I just had to try it right away. It's kind of brilliant.
First off, it looks totally cute. Like chicken and waffles, but way less gross.
Second, it's nice to have another way to use my waffle iron, which I only use a few times a year. Let's be honest, waffles are more trouble than they're worth unless you're really craving them. And if that's the case, it's easier to just go to the diner.
Third, the waffle iron adds more surface area to the bread, so it gets super-duper crispy – without needing tons of butter or oil. This was by far the crispiest panini I've ever eaten, with bread that shattered between my teeth. All you need is a quick spritz of cooking spray to prevent the bread from sticking to the waffle iron.