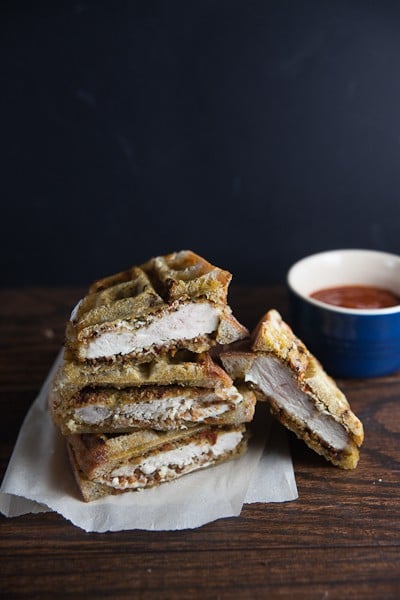 Remember when I made Asian Calamari Salad and I wrote about how it was more of a concept than a recipe? This is sort of like that. Sure, I'll give you a recipe for an insanely good Italian chicken panini. But that's not really the point. The point is that YOU CAN MAKE A PANINI IN YOUR WAFFLE IRON. I mean, what?! Is your mind as blown by that as mine was?
I saw the idea in last month's issue of Rachael Ray's magazine and I just had to try it right away. It's kind of brilliant.
First off, it looks totally cute. Like chicken and waffles, but way less gross.
Second, it's nice to have another way to use my waffle iron, which I only use a few times a year. Let's be honest, waffles are more trouble than they're worth unless you're really craving them. And if that's the case, it's easier to just go to the diner.
Third, the waffle iron adds more surface area to the bread, so it gets super-duper crispy – without needing tons of butter or oil. This was by far the crispiest panini I've ever eaten, with bread that shattered between my teeth. All you need is a quick spritz of cooking spray to prevent the bread from sticking to the waffle iron.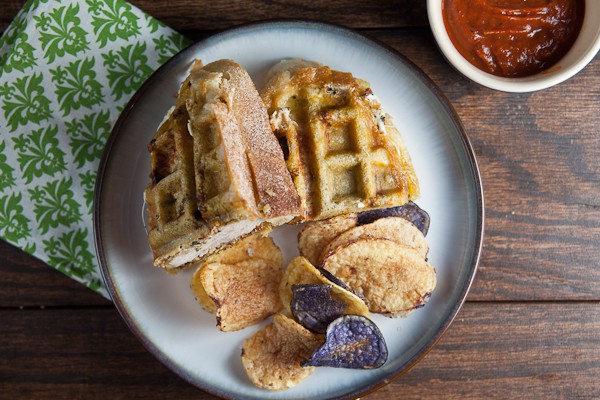 Italian Chicken Panini in a Waffle Iron
If you've been looking for an excuse to buy a waffle iron, look no further! It makes a great stand-in for a panini press, yielding an extra-crispy panini. Of course, you can also make this the traditional way by toasting it in butter melted in a heavy skillet. (Place a second skillet over the sandwich and weigh it down with a brick or a few heavy cans to press the sandwich.)
Print
Pin
Rate
Ingredients
1

boneless

skinless Chicken Breast(about 1/4 pound)

¼

cup

Panko Bread Crumbs

2

Tablespoons

Italian Seasoning

1

Egg

beaten

2

Tablespoons

Olive Oil

¼

cup

loosely packed Fresh Basil

2

Tablespoons

chopped sun-dried Tomatoes

rehydrated in warm water

4

thin slices Italian Bread

1

ounce

Fresh Mozzarella

sliced

Marinara Sauce

for serving
Instructions
Cut chicken breast in half, width-wide, so you have two thin pieces of chicken. Pound to 1/4-inch thickness. In a shallow dish, mix bread crumbs and Italian seasoning. Dredge chicken in egg, then in seasoned bread crumbs.

Heat olive oil in a medium skillet over medium-high. When hot, add the chicken – it should immediately begin to sizzle. Cook until golden brown and cooked through, about 4 minutes on each side. Remove from pan and drain on paper towels.

Heat waffle iron.

Add basil, sun-dried tomatoes, and 1 tablespoon soaking liquid to a food processor or blender. Pulse several times until a thick pesto is formed. Spread over each slice of bread. Top two piece of bread with chicken and mozzarella; cover with remaining bread.

Spray heated waffle iron with cooking spray. Add the sandwiches; close lid firmly to press sandwiches. Cook 5 minutes, or until bread is toasted and cheese is melted.

Serve with marinara sauce, for dipping.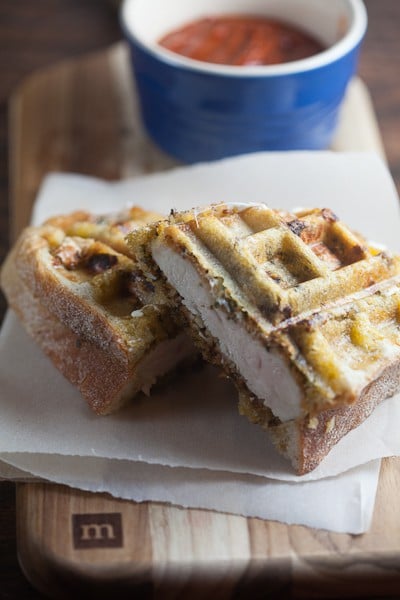 By