A few weeks ago there was a free Zombies concert (you know, from the 60s?) on the plaza downtown (once in a while Albany can be kind of cool). Since it started right after work, there wasn't time to go home for dinner so we had to eat there. I fully expected to be stuck eating a hot dog or something, but it turns out that the vendors really upped their game this year! I got a "Chicago sandwich" – roast beef dipped in jus filed high on a soft roll and topped with spicy pickled giardiniera – and I immediately fell in love. I'm declaring it the sandwich of summer.
This week, the theme of Sunday Supper is "Preserving the Harvest" so I thought making my own spicy giardiniera would be perfect. I'e never really been big on canning and it surprised me how easy the giardiniera was to make! It's also crazy delicious – so much better than the stuff I've always gotten at the grocery store. With three jars of it tucked away in my cabinets, I should be all set for the rest of the summer.
(Since it's way to hot to roast my own beef right now, I used roast beef from the deli counter and made my own "cheaters jus" by reducing 1 cup of good quality beef stock and a generous splash of red wine by about half. Let it cool slightly before quickly dipping the beef into it. Serve the sandwiches with a side of salt and vinegar chips for what I think is pretty much the perfect no-fuss dinner on a hot night.)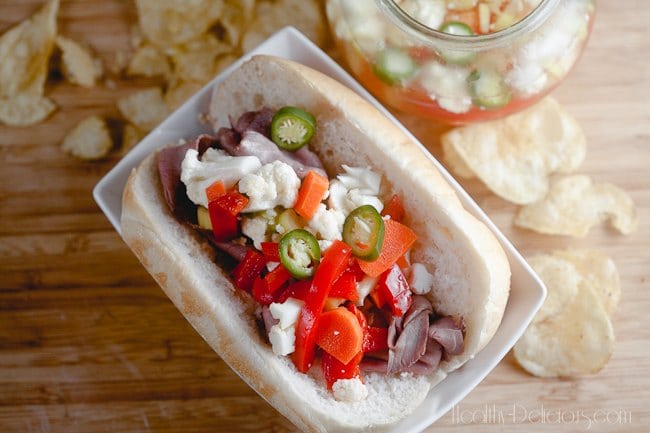 Ingredients
3

cups

white wine vinegar

6% acidity

1 ½

cups

water

1

teaspoons

salt

1

small head cauliflower

cut into small florets

4

celery stalks

sliced

2

red bell peppers

sliced

2

carrots

peeled and cut into rounds

3

serrano chilis

sliced into thin rounds

3

garlic cloves3 bay leaves

1

tablespoons

peppercorns

3

tablespoons

olive oil
Instructions
Sterilize 3 pint-sized canning jars and their lids.

Add the vinegar, water, and salt to a nonreactive saucepan. Bring to a boil.Divide the vegetables and seasonings between the jars, filling them to within 1-inch of the rims. Ladle the brine into the jars, leaving 1/2-inch of headspace (add more vinegar if needed).

Add 1 tablespoon of oil to each jar. Wipe clean and replace lids. (At this point you can throw them into the fridge and call it a day if you want, otherwise continue on to process them and make them shelf-stable.)

Process the jars in boiling water for 10 minutes. Remove from the water bath and let sit undisturbed for 24 hours; test the seals. Any jars that did not seal properly can be kept in the refrigerator for about 1 week; sealed jars can be kept at room temperature for about 1 year.