Finally – homemade brownies that are just as rich and fudgy as ones from a mix! Topped with a smattering of sea salt, these brownies will put a smile on people with a sweet tooth as well as those whose usually prefer salty snacks.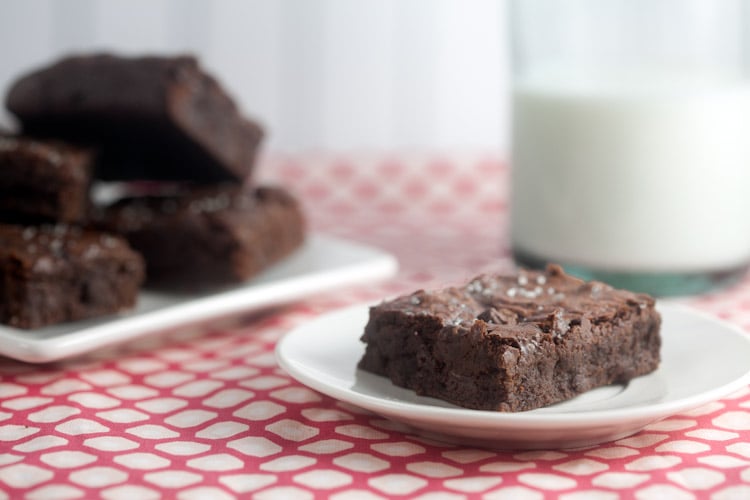 I was planning to save these brownies until next week since they're kind of Valentine-y, but I couldn't wait one more second to share them with you. Seriously, these brownies are ridiculously good. Without question, they're the best brownies I've ever eaten.
I've been on a pretty serious brownie kick this winter, but until I came up with this recipe I relied on box mix. I know, I know… but I also know I'm not alone on this one. Pretty much everyone I know says they prefer box mix, and I get it. Homemade brownies just never seem to stack up: they're too cakey and they don't get that delicious crispy-crackly layer of goodness on top. Until now.
I studied the ingredient list on my favorite box mix brownies and did a ton of research. These were the result, and they're incredible. Better than the box, if I say so myself!
I started by making my own cake flour by mixing Gold Medal all purpose flour with cornstarch. My cabinets are so stuffed that there just isn't enough room in there for another kind of flour, but doing this helps keep the brownies incredibly tender and delicate. Corn syrup might seem like a strange addition, but it's the secret to making these brownies insanely fudgy (if there was such a thing as a brownie that's too fudgy, these might be cutting it close). I also added some instant coffee, which is something I love to do with most chocolate desserts. It adds a touch of bitterness that makes the chocolate seem even richer.
Then, as though all of that wasn't enough, I topped them with a smattering of vanilla salt. Total over-the-top goodness!


This post was sponsored by Gold Medal Flour. Thank you for supporting the brands that keep me inspired in the kitchen!