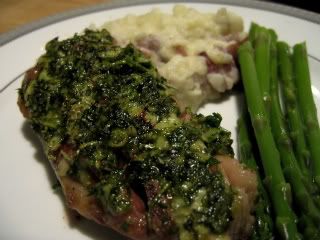 Spring finally seems like it might be around the corner, and this lamb crusted with fresh herbs is perfect for the weather. Lamb is one of my favorite meats (it may be my favorite) and I love that the simplicity of this preparation really lets the lamb flavor shine through. The rosemary is also very prominant, and the flavors play off each other perfectly. I served this with mashed red potatoes (skins on, mashed with a little sour cream) and asparagus.
2 cloves garlic, minced
1/2 cup parsley
1/4 cup rosemary
1/4 cup Romano cheese
2 T. olive oil
1 lb. lamb shoulder chop
Preheat broiler. Combine first 4 ingredients in a food processor. Continue to process while drizzling in oil until mixture comes together. Spread herbs over one side of your chop. Broil about 10 minutes for medium-rare.
[digg=http://digg.com/food_drink/Herb_Crusted_Lamb]