The other day I was in the mood to bake, but I didn't want anything too heavy. I decided that lemon cupcakes sounded good. Then I decided it would be fun to top them with coconut frosting, for sort of a summery feel. And, just for kicks, I filled them with lemon pudding. They came out SO good. So, so good. I made half the batch full-sized and half the batch mini, so I can mix it up based on what else I've eaten that day.
I used a sour cream based recipe for the cupcakes, and they came out really dense. Kind of like a pound cake. They didn't photograph very well (I'm wondering if the splenda kept the tops from browning), but they're really delicious.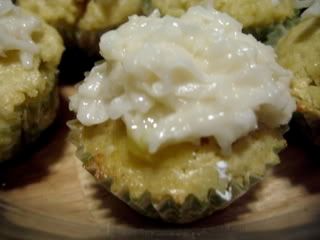 Lemon cupcakes
3/4 c butter, softened
1/2 c sugar
1/2 c splenda
3 eggs
zest from 1 lemon
1/2 tsp vanilla
1 1/2 c flour
1/2 tsp baking powder
1/2 tsp baking soda
1/4 tsp salt
1/2 c sour cream
1. Cream butter and sugar. Add egg, lemon, and vanilla.
2. In a seperate bowl, combine flour, baking powder, and baking soda.
3. Add flour mixture into butter mixture, alternating with sour cream. Combine.
4. Fill 14 paper-lined muffin cups with batter, and bake at 350 for about 20 minutes. Let cool.
Frosting
4 oz cream cheese, softened
2 T butter, softened
1 tsp grated lemon peel
1/s tsp vanilla
1 1/4 c powdered sugar
3/4 c coconut
Beat first 4 ingredients until well blended. Gradually add sugar. Mix in coconut.
Filling: 1 pkg lemon pudding, prepared according to pie filling directions
To Assemble:
1. Cut a cone shape out of the top of each cupcake, being careful not the cut all the way through the bottom. Trim excess cake of the "cone" so you have just a little round topper left.
2. Fill hole in cupcake with pudding. Top pudding with cake round. Frost.
(alternately, you can use a chopstick to poke a hole in the top of the cupcake, swirling it around a little to make a cavern in the middle of the cupcake. Fill with pudding and top with forsting.)