I created this recipe for my client, GO VEGGIE!
I've been really into sandwiches lately. They make a great meal – especially with a steamy bowl of soup – plus they're easy to make. I've been getting home from work late a lot, so quick dinners are definitely appreciated.
This turkey and kimchi melt with sriracha cream cheese is one of my favorites. The tangy kimchi and melty cream cheese give this sandwich a reuben vibe, but with so much more personality. It has plenty of spice, but the cream cheese helps mellow things out so you won't feel like your mouth is on fire. I love how this sandwich pairs with a cup of chicken soup.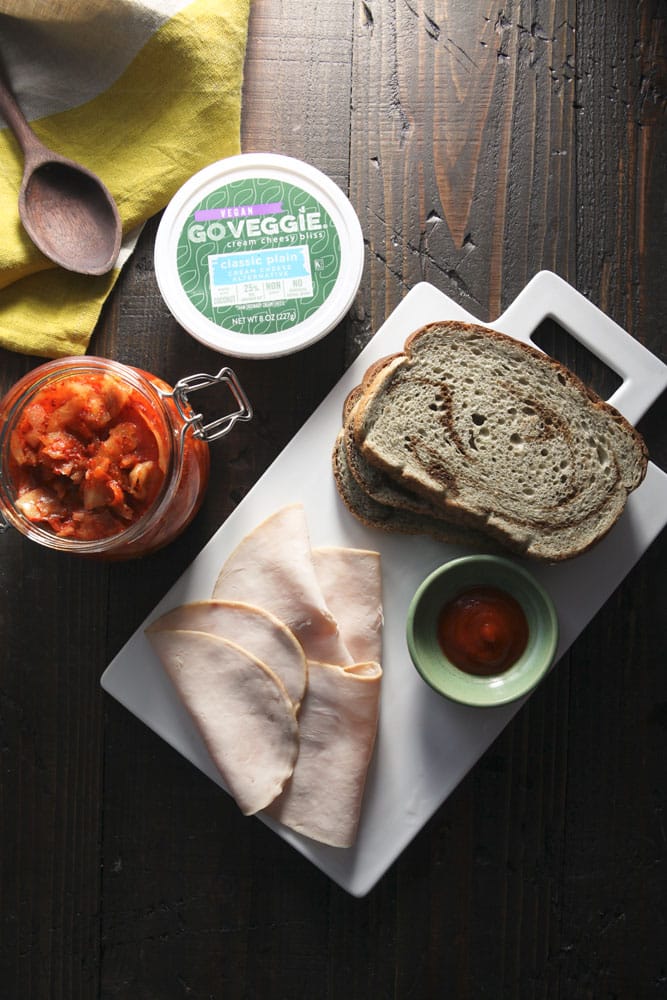 October is non-GMO awareness month and GO VEGGIE! recently announced that all of their vegan cream cheese's are now non-GMO verified. I know a lot of people who will be excited about that!
Their cream cheese is the first GO VEGGIE product that I fell in love with, all the way back when I used it in my cajun spaghetti squash. It's definitely the best dairy-free cream cheese that I've tried and I love that it's made from coconut. It's delicious on bagels, but I also love the way it melts in recipes. It's the secret to my ultra-creamy mac and cheese!
For the sandwich, I mix the cream cheese with sriracha to create a spicy spread that replaces the more traditional mayo or Russian dressing you would expect to see.
(Since I know people will ask, I use turkey on my sandwiches even though I'm using vegan cream cheese because I'm only focused on them being dairy free. For a vegan sandwich, you can use a plant-based meat alternative, like tofurkey, or just leave it off. You'll also want to double-check the labels on your kimchi and sriracha, since some brands contain shrimp or anchovy paste.)
Grilled Turkey and Kimchi Melt with Sriracha Cream Cheese
Ingredients
1/2 cup kimchi, drained
1/4 cup GO VEGGIE! cream cheese
4 slices marble rye
4-6 slices turkey
1/2 teaspoon sriracha (or more to taste)
1 teaspoon butter or margarine
Instructions
In a small bowl, combine the cream cheese and sriracha until completely blended.
Spread two slices of bread with the sriracha cream cheese. Top with turkey and kimchi, then cover with remaining bread.
Melt the butter or margarine in a grill pan over medium-high heat. Add the sandwiches and cook 3-4 minutes on each side, or until the bread is toasted and the fillings are warm.
Serve immediately or let cool to room temperature.
By