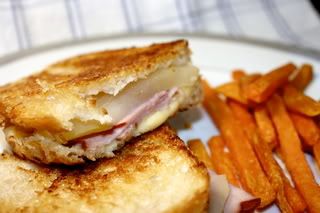 April is National Grilled Cheese Month and it seems as though every blogger worth their salt is writing about it. Since we're huge fans of warm, gooey sandwiches I couldn't let the month go by without a grilled cheese post. And this one is good.
Not too long ago, we took a drive one weekend. My husband knew of some chocolate shop in Vermont that he wanted to show me and it was a gorgeous day for a drive, so we set out. We were having a nice drive, and there was a good opera playing on NPR and we weren't really in a hurry to head back home, so we decided to go to the outlets in Manchester. By the time we got there, we were really hungry for lunch and we found the cutest little diner (I wish I remembered what it was called) where I had a sandwich of black forest ham, Gouda, and maple poached pears. I also got a cup of butternut squash soup, and the sandwich was served with potato chips and French Onion dip with I thought was genius.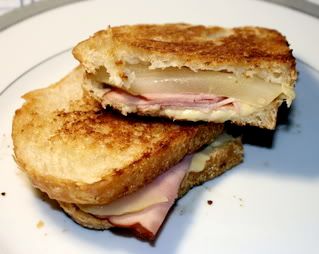 It was a great lunch, and I knew immediately that I would have to make it at home and improve on it. I used maple ham (and I used less) and just lightly poached my pears so they still has a little bit of texture to them. I think my version was better than theirs. Next time I might use a little more cheese though- it looked like a ton when my sandwich was cold but once it melted down it didn't seem like so much. It was still nice and gooey, but I would have liked more.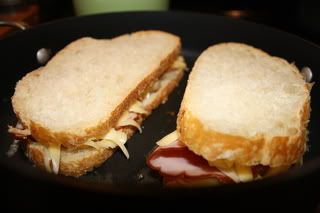 1 pear, peeled and thickly sliced
2 c water
1/2 c maple syrup
4 slices Italian bread
4 slices honey ham
1/4 pound gouda, shredded*
1 T butter
In a small saucepan, bring water and syrup to a boil. Add pears and cook about 7 minutes, or until it begin to soften. Remove pears from syrup and set aide.
On each of two slices of bread, arrange pears, 2 slices of ham, and half the cheese. Top with remaining bread.
In a medium skillet, melt butter of medium heat. Once butter is an ice and hot, add your sandwiches. Keep a close eye on them so they don't burn, but on medium heat it should take about 5 minutes for your first side to get nice and toasty. Don't be tempted to turn the heat up and cook these faster- you're bread will burn before your cheese melts! After 5 minutes or so, flip your sandwiches to toast the other side. If your cheese isn't melty enough, you can cover the pan with a lid at this point. After 2 or 3 minutes, your second side should be golden and your cheese should be melted and your grilled cheese will be ready to enjoy!
Serves 2.
*make sure you don't get smoked gouda, which is more common. The flavor isn't the same and it won't melt as nicely.
*****
This week, I want to try something new for my Meat-Free Fridays feature: in addition to my normal post, I want to do a round up! If you have a great, healthy meatless recipe (fish is ok!) that you would like to see included, leave me a comment and post a link to healthy-delicious.com with a note that you are submitting it to Meat-Free Fridays. Deadline is Thursday, April 23.