This was really simple to make and was absolutely delicious. Next time, I'll probably use half the asparagus though- while there was plenty in each dish, theyre was a LOT left over at the bottom of the serving bowl. You could probabaly also get away with a little less oil.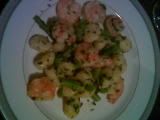 1 package gnocchi
1 Lb. asparagus, cut into inch-long sections
1 Lb. shrimp
1 c basil leaves
1/4 c. lemon balm (can be omitted)
2 t. shredded Parmesan cheese
2 t fresh lime juice
2 cloves garlic, minced
4 t olive oil
1/4 t salt
Bring water to a boil . Add gnocchi to pan and cook until done (it will rise to surface). Remove gnocchi, reservign water. Add asparagus and shrimp to pan with water; boil about 5 minutes until shrimp are done. Drain. Add shrimp mixture to gnocchi.
While waiting for the water to boil, combine remaining basil, lemon balm, lime juice, and cheese in a food processor. Process until smooth.. Add olive oil and process until well blended.
Combine pesto, gnocchi, shrimp mixture, and salt. Toss to coat.
Serves 4. Approx 300 calories per serving.