I've seen a new trend popping up over the last summer or two: summer roll parties! I have to admit, I kind of love it. Summer rolls are pretty much the perfect food when it's insufferably hot out – they're cool, crisp, and filled with watery vegetables and fresh herbs. Since they're eaten at room temperature the fillings can all be made ahead, which mean you can actually spend time with your guests instead of in the kitchen. Sure, your guests will have to do a little work – but once they get the hang of it, filling summer rolls is really easy and is a great social activity. Plus they'll get to customize their rolls with whatever fillings they like best. Just approach it like it's a "fancy" taco night!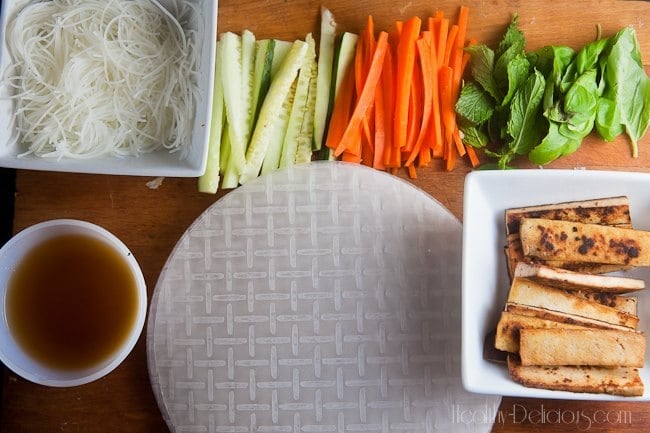 Summer rolls are great with any lean grilled protein, like homemade pork sausage or shrimp, but this time I made them with gingery marinated tofu. We made these during a heat wave, and the tofu was a nice change from heavier feeling meats. I used organic sprouted tofu from Wildwood, which is high in protein so it really fills you up. It soaks up the marinade beautifully and, once seared in a hot pan, has a great texture that was crispy on the edges but smooth and creamy inside. It really gave the summer rolls a lot of flavor! For fun, I also made a short video that shows how I assemble the rolls. It's the first video I've made and it got cut off at the end (and I couldn't figure out how to reshoot just one part), but I think it'll give you at least a general idea. (Plus, I made a video! Yay! Fun!)
Gingery Tofu Summer Rolls with Pineapple Dipping Sauce
Print
Pin
Rate
Ingredients
For the gingery tofu:
10

ounces

1/2 brick Wildwood Sprouted Tofu

4

tablespoons

ponzu

2

tablespoons

freshly grated ginger

1

tablespoon

sugar

1

tablespoon

sesame oil

2

tablespoons

vegetable oil
For the dipping sauce:
¼

cup

pineapple juice

2

tablespoons

fish sauce

1

teaspoon

lime juice
For the summer rolls:
20

spring roll wrappers

rice paper wrappers
leaf lettuce
cucumber

cut into thin spears

carrot

cut into matchsticks

leaf lettuce

fresh mint

fresh basil

4

ounces

rice stick noodles

cooked according to package instructions
Instructions
To prepare the tofu:
Cut the tofu into 20 strips: First, slice it in half across the equator to create two large, thin rectangles. Then cut each rectangle into 5 long strips; cut each strip in half lengthwise. Pat dry.

Combine the ponzu, ginger, sugar, and sesame oil in a dish just large enough to hold to tofu. Mix well; add the tofu, turning it to coat. Cover and refrigerate overnight.

Remove tofu from marinade and pat off excess moisture. Heat the vegetable oil in a large skillet set over high heat. When the oil is hot, add the tofu and cook until golden and crisp (1-2 minutes on each side). Remove from pan and let cool.
Prepare the dipping sauce:
Whisk together pineapple juice, fish sauce, and lime juice. Season with ginger to taste.
To assemble the spring rolls:
Soak a spring roll wrapper in warm water until softened, about 10 seconds. Lay on a flat surface. Place a leaf of lettuce of lettuce at the top left of the wrapper (around the 10:00 position). Top with a slice of tofu, cucumber, carrot, mint and basil. Add a small amount of noodles. Fold the wrapper in half, bringing the bottom section up over the fillings. Fold the left side of the wrapper over the fillings; roll tightly.

Repeat with remaining wrappers and fillings. Serve with dipping sauce.
Nutrition Facts

Gingery Tofu Summer Rolls with Pineapple Dipping Sauce

Amount Per Serving

Calories 167

Calories from Fat 33

% Daily Value*

Fat 3.7g6%

Protein 5g10%

* Percent Daily Values are based on a 2000 calorie diet.

By