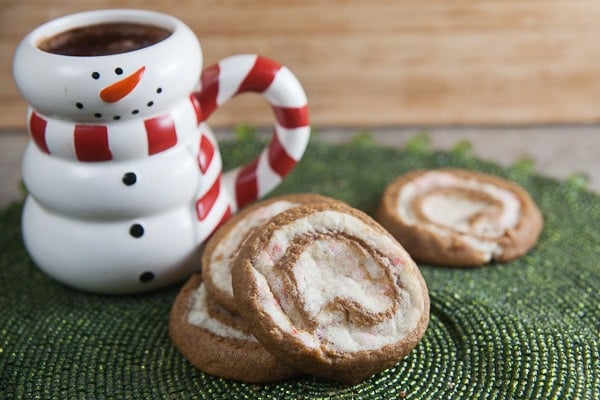 These gingerbread-peppermint pinwheels are by far the easiest of the three cookie recipes I'm sharing this week. They're also the most suited to be eaten alongside a steamy mug of hot cocoa. The flavor is intense, but it totally works. As Shawn said, "OMG, they taste like Christmas!"
Although they only have two ingredients, perfecting this recipe did give me some trouble – be sure to thoroughly chill these cookies before baking them, or the layers will spread and melt into each other as they bake and ruin the pinwheel effect. An hour in the freezer will suffice, but you can leave them in there longer for even better results. Roll the edges in red sanding sugar will give these cookies a festive sparkle and a sweet crunch!
This recipe makes a lot of cookies, but the recipe can easily be halved or quartered – just keep the dough frozen and bake them as you feel like eating them. (The prepared dough will keep frozen for several months.) Or, bake them all now, and spread some holiday cheer to your friends, family, and coworkers!
(I had a hard time finding the holiday cookie dough flavors – although I hear that it's readily found at Target and Wal-Mart, the stores around here didn't carry them. I ended up having the best luck out in the suburbs. For those of you in the Albany area, I've seen the dough at both the Niskayuna and Slingerlands Shop Rite.)
Gingerbread-Peppermint Pinwheels
Serves 56
Prep Time: 10 minutes; Total Time: 2 hours 10 minutes
Ingredients
1 roll (30 ounces) Pillsbury Refrigerated GingerbreadCookies
1 roll (30 ounces) Pillsbury Refrigerated PeppermintCookies
Red Sanding Sugar (optional)
Preparation
Place half the gingerbread dough between two (17×12 inch) sheets of waxed or parchment paper; roll out to 12×17 inch rectangle. Repeat with peppermint dough. Remove top sheet of wax paper from both sheets of dough; invert peppermint dough onto gingerbread dough. Gently press together and trim edges. Remove top sheet of wax paper.
Starting with one of the long edges, roll dough tightly, jelly-roll style. (If the dough is too sticky to roll, refrigerate for 10 minutes.) Roll in sanding sugar, if using. Wrap tightly. Freeze for 1 hour or until firm. Repeat with remaining dough.
Heat oven to 350F. Unwrap dough; with sharp knife cut into 1/4-inch slices. On ungreased cookie sheet, place slices 2 inches apart. Bake 12 to 15 minutes or until set. Cool 2 minutes; remove from cookie sheet to cooling rack.
Disclosure: This post was brought to you in partnership with Pillsbury. I was compensated for my time creating this recipe. All opinions are my own.

By