I had to laugh when I found out that Calphalon was sponsoring this month's Kitchen Play event and wanted me to make a drink recipe using their 12 cup quick-brew coffeepot. As I've discussed on this blog before, I'm a pretty serious coffee fanatic – if there's one kitchen appliance that I'm familiar with, its a coffeemaker. (Looking around my kitchen, I can count at least 6 different ways to make a cup of coffee!)
Once the laughter subsided, I turned to panic. They wanted me to make a drink. With coffee. How on earth was I going to turn that into a recipe worth posting here?
It only took one trip through the Starbucks drive though to find my answer. Despite the fact that the holiday season is right around the corner and it's already too cold to leave the house without a coat, they still aren't selling gingerbread lattes! Gingerbread Lattes are my favorite but, for some reason, Pumpkin Spice gets all the love. I don't get it.
I began by making a spicy gingerbread syrup by infusing simple syrup with fresh ginger, cinnamon, and spices. Since I don't generally sweeten my coffee, the syrup in my recipe isn't as sweet as you'll find at the local coffee shop. This allows each person to have greater control over the sweetness of his or her beverage (and makes it a little more appropriate for breakfast).
Then, I used the brew strength control on the coffeemaker to ensure I had a nice, strong cup of coffee that would stand up to the syrup and milk without losing its flavor. Top it all off with a blanket of freshly whipped cream and you'll never have to wait for the coffee shop to declare it "gingerbread season" again.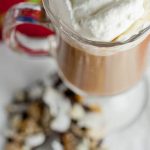 Gingerbread Café au Lait
These warm, spicy drinks are perfect for autumn and winter entertaining. Serve them on their own or alongside apple pie or ginger-coconut bark For an adult version, try adding a splash of bourbon to each glass.
Print
Pin
Rate
Ingredients
¼

cup

White Sugar

¼

cup

Water

2

Tablespoons

Light Brown Sugar

2

inches

of Fresh Ginger

peeled and sliced very thinly

1

stick Cinnamon

5

whole Allspice Berries

5

whole Black Peppercorns

½

cup

Skim Milk

½

pint

Heavy Cream plus 2 Tablespoons White Sugar

4

cups

Strong Coffee

¼

cup

Bourbon

Optional

Additional sugar for serving
Instructions
Combine the sugars, water, ginger slices, cinnamon, allspice berries, and peppercorns in a small saucepan set over medium heat. Bring to a gentle simmer, stirring until the sugar is completely dissolved. Reduce heat and let simmer for 15 minutes.

Remove from heat and let steep for 1 hour. Remove the cinnamon stick and ginger slices, then filter the syrup through a coffee filter to remove the remaining spices. (At this point, the gingerbread syrup can be transferred to a small bottle and kept in the refrigerator for several weeks.)

Add the milk to a saucepan and warm over low heat – do not allow the milk to boil. Meanwhile, whip the cream and sugar until it forms soft peaks.

Combine the coffee, warmed milk, 4 Tablespoons of gingerbread syrup, and bourbon (if using) and divide between four glasses. Add sugar to taste before topping each serving with whipped cream.

Serve immediately.
In exchange for participating in the November 2011 edition of Kitchen Play and writing this post, I received a Calphalon coffee pot and a waffle iron. I did not receive any monetary compensation. All opinions are my own and all recipes are original.

By