I feel like it's been forever since I added a recipe to my "Cooking for One" series. To be honest, I got a little distracted with other things and kind of forgot about it. (Oops!)
This wrap makes up for the missed month though. It's full of fresh, crisp vegetables, delicious marinated and grilled chicken, and enough peanuts to give it the perfect amount of crunch. It's also super fast to make – if you prepare your fillings while the chicken is cooking, it takes less than 10 minutes.
As soon as I started doing research on the Marzetti Simply Dressed product line, I knew that I wanted to create a recipe with the ginger-sesame dressing. As I read the ingredient list and saw that it included ginger puree, my mouth immediately started watering. (Yes, I've clearly been a little obsessed with ginger lately.)
When I opened the bottle and took a sniff, I knew that I had made the right choice – this stuff sounds, looks, smells, and tastes amazing! It was so good that I actually went back and tweaked my recipe to include more of the dressing than I had originally planned for. Even after that, I was tempted to dunk my wrap in even more dressing. (I didn't though. The dressing is good, but I didn't want to put on so much that it would overpower the fresh and delicate flavor of the vegetables.) This one is definitely a keeper!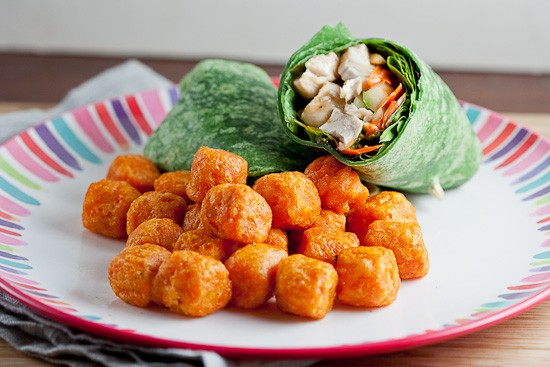 I was one of the bloggers selected by T. Marzetti Company to review Simply Dressed Refrigerated Salad Dressings. I have been compensated for my time commitment to the program as well as my writing about my experience. I have also been provided products for review. However, my opinions are entirely my own and I have not been paid to publish positive comments.