On Monday night, I got a text from Shawn: I'll be home at 8 tomorrow. Want to do dinner?
I answered yes, figuring I would just eat a little later than I had originally planned. It's always nice to eat together.
I wasn't expecting his reply: Cool. Pick something up on your way home from work, Surprise me.
What the hell? I'm very indecisive when it comes to what to make for dinner as is, so I hate being solely responsible for making that decision. Plus we just rejoined Weight Watchers, so I needed to come up with something extra good that wasn't a lot of points. (I don't get many, so I have to make them count!)
I ended up making a sweet and spicy stir fry loaded with a combination of everything that looked good in the store plus a few things that I had in the fridge. I was pretty hungry by the time it was ready so I wasn't planning to take pictures, but before I had even finished serving myself Shawn was yelling to me from the other room about how "super good" it was. I'm glad that I took a few extra seconds to snap some, because he was right: the steak was super tender and perfectly seasoned with lots of bite from the ginger and garlic, the sauce was subtly sweet, but not heavy or sticky, and the vegetables added lots of fresh flavor and satisfying bulk without seeming overbearing.
Not bad at all for something I threw together without any planning!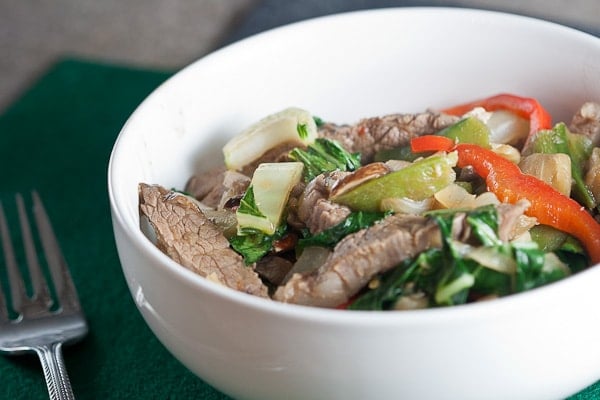 Ingredients
1

pound

Flank Steak

trimmed

1

Onion

sliced

1

cup

Water

1

Tablespoon

Hoisin Sauce

1

Tablespoon

Chili Paste

2

teaspoons

low sodium Soy Sauce

2

cloves

Garlic

minced

1

Tablespoon

freshly grated Ginger

1

Red Bell Pepper

sliced

1

cup

chopped Mushrooms

1

medium Eggplant

peeled and cut into a 1-inch dice

1

cup

frozen Sugar Snap Peas

4

leaves

Bok Choy

chopped

2

cups

prepared Brown Rice

for serving
Instructions
Slice the steak into thin strips, cutting across the grain to ensure tender pieces. Place the skuced steak and onions in a glass baking dish or a large mixing bowl. In a second bowl, mix together the water, hoisin, chili paste, soy sauce, garlic, and ginger. Pour over the beef and onions. Cover and let marinate for 20 minutes.

Set a large sautéed pan over high heat. Add the steak and onions and cook, stirring frequently, until just browned. Remove from the pan and place on a plate. Reduce heat to medium. Add the pepper, mushrooms, eggplant, and snap peas to the pan, along with any of the extra marinade. Cook, stirring frequently, until the marinade comes to a boil and the peas are defrosted. Add the steak and cook for another 2-3 minutes, or until cook through. Add the Bok Choy; cook 1 minutes or until wilted.

Serve over brown rice.
By