The more I get into recipe development, the more I realize what a funny little artform it is. Sometimes I think I have a great idea – something so obvious that of course it will be great – and it ends up bland and tasteless (or so bad that we have to dump it and order a pizza.) Other times I'll have an idea that I'm no so convinced will work, but I ultimately end up standing over the stove shoveling forks full of it into my mouth because it's so good.
When I set out to make my second savory recipe using Yoplait's new lactose-free yogurt, I really had no idea what I was going to do. I was also up against a tight deadline, which didn't help matters much. I left work the night before my recipe was due with a vague idea of making a creamy butternut squash soup with the french vanilla yogurt. I had a feeling that the sweetness of the squash would work well with vanilla.
As I was walking to the parking garage, I suddenly remembered a pasta dish that I made last summer that involved a sauce made from cream, sweet corn puree, and jalapeño peppers. It was luxurious and rich, and the spicy peppers cut through the sweetness and gave it tons of dimension.
By the time I got home, I had decided to take a completely different approach to my recipe. I felt a little like Jackson Pollock as I threw ingredients into the pan, hoping that at some point they all start to come together and make sense. Looking at the ingredient list, you might not think that they do. There's summery corn and wintery squash. Delicate sage and bold jalapeño and red onion. Chicken stock and … yogurt? But somehow, it all comes together in a dish that makes perfect sense. Just remember to put it on a plate before you taste it, or you might end up like I did – standing over the stove transfixed, unable to stop taking tastes until I realized that I'd polished off a whole serving.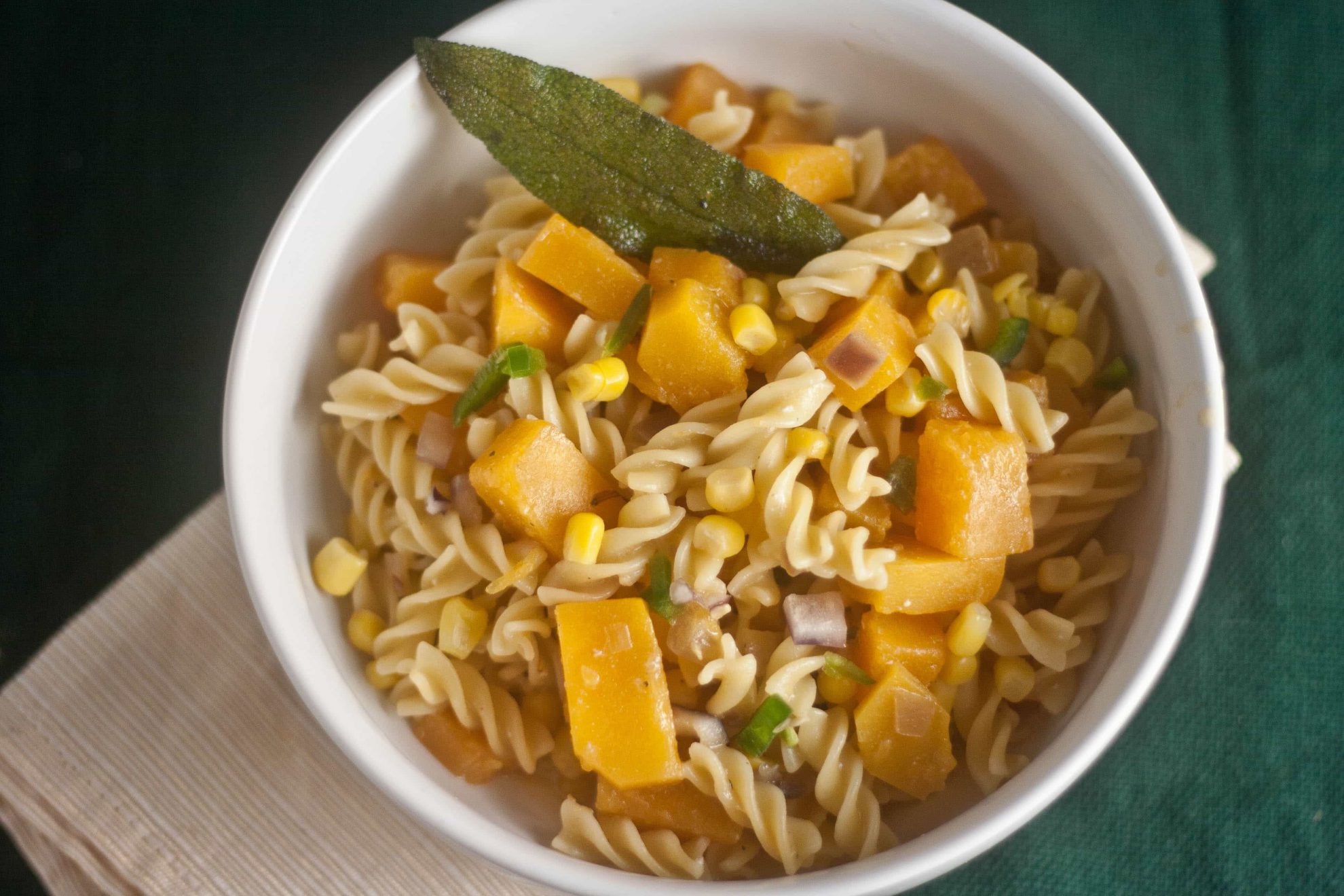 Fusilli with Butternut, Corn & Jalapeno
Yields 4 servings
Prep Time: 10 minutes; Total Time: 30 minutes
Vanilla Yogurt adds a touch of creaminess to the light and delicate sauce that coats this quick pasta dish. Don't forget to season it with salt and pepper – it really brings the flavors together and makes everything work.
Ingredients
1 pound Fusilli or other small, textured pasta
2 tablespoons Olive Oil
4 fresh Sage Leaves
1/2 cup chopped Red Onion
2 cloves Garlic, minced
2 cups diced Butternut Squash
1 cup Frozen Corn
1 Jalapeno Pepper, seeded and minced
2 cups Chicken Stock
1 container (6 oz) Yoplait Lactose Free French Vanilla Yogurt
salt and pepper
Preparation
Cook the pasta according to the directions on the package.
Add the olive oil to a large skillet over medium-high heat. Gently place the sage leaves in the cold oil. Cook for 1 to 2 minutes, or until the sage turns dark green and crisps up. Remove the sage and set aside.
Add the onion and garlic to the oil in the pan. Cook, stirring occasionally, until the onion softens – about 5 minutes. Add the squash and cook for 2 minutes. Stir in the corn and jalapeño and cook for another 2 minutes.
Add the stock and simmer for 15 minutes, or until the squash is soft. Remove form heat and stir in the yogurt. Stir in the cooked pasta. Crumble the sage into the pasta and stir to combine. Season to taste with salt and pepper.
Approx. 490 calories, 10 grams fat, 85 grams carbohydrates, 3 grams fiber, 17 grams protein

I was compensated by General Mills/Yoplait for creating the recipe. All opinions are my own.

By