It's spring, the weather is gorgeous, and strawberries have started to make an appearance at the farmer's market … what more can you ask for?
The first week that strawberries are really good might be the happiest that I am all year. In season strawberries can't even compare to the pale, bitter berries that are available the rest of the year. Just follow your nose – if they're ready, you'll be able to smell them even before you see where they are in the store or at the market. Their scent is so intoxicating that it makes me giddy, and I buy them by the basket full. I just can't help myself!
Once I've eaten way more than my fill, I make this cake. I've been making it for a few years now, an it's absolutely delightful. It's light and fluffy and had the perfect strawberry milkshake-like flavor. Go ahead and add plenty of colorful sprinkles – a cake this good is worthy of a celebration.
(Also worthy of a celebration? Winning $100! You still have a week to enter my contest – see the details here.)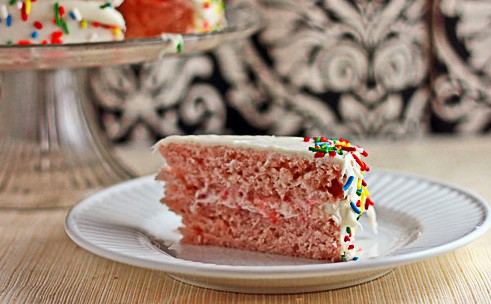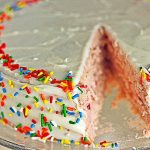 Fresh Strawberries and Cream Cake
It's really hard to get homemade strawberry cake right, but good berries do the trick. Unfortunately, that means there's only about a month-long window where this recipe really works. I've made it in the winter with frozen berries, but it's just not the same. What are you waiting for? I use store bought icing. I know a lot of people think it's terrible, but I love it and my homemade icing is never as good (except for my peanut butter oreo buttercream, but that just doesn't go with this cake). If you have a great recipe for frosting, go ahead and use it. But if you don't, by all means, go ahead and use the stuff from the store.
Print
Pin
Rate
Ingredients
3

cups

All Purpose Flour

2

cups

Sugar

3

Tablespoons

Baking Powder

¼

teaspoon

salt

2

sticks unsalted Butter

softened

2

cups

fresh Strawberry Puree

½

cup

Buttermilk

5

Egg Whites

2

cups

of your favorite cream cheese or buttercream frosting

1

cup

chopped fresh Strawberries

Rainbow Sprinkles
Instructions
Heat oven to 350*F. Grease the bottoms and sides of two 9-inch cake pans.

In a large mixing bowl, beat together the flour, sugar, baking powder, and salt. Add the butter and strawberry puree and beat with an electric mixer until light and fluffy – about 2 minutes. Mix together the milk and egg whites in a second bowl, then gradually incorporate into the batter. Divide the batter between the two prepared pans.

Bake for 30-35 minutes, or until a toothpick inserted into the center of a cake coms out clean. Allow cakes to cool completely, about 1 hour, then invert and remove them from the pans.

Mix together 1/2 cup frosting and chopped strawberries. Place one cake layer on a platter. Spread the top with strawberry frosting. Top with the second cake layer. Spread the top of the cake with a thin layer of frosting, then frost the sides. Decorate with rainbow sprinkles.
Notes
Adapted from Sky High: Irresistible Three Layer Cakes 

By