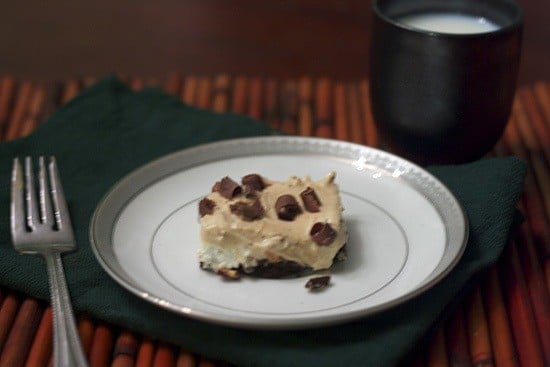 I remember the first time I met Jennifer Perillo. It was at BlogHer last summer, and a group of us had snuck down to the bar to enjoy a glass of wine where it was quieter and generally less crazy. We shared stories, talking about this and that, and I remember her telling us how her husband Mikey was her rock. How he talked her down when her temper started to flare and how he made sure she always stayed professional.
She spoke of him with such love and admiration, and it was clear to everyone that they were true partners. A marriage to model their own after. I've met Jennie a few times since then, and Mikey frequently ended up in the stories she would share. Just a few weeks ago at the Big Summer Potluck, she traded the blender that she had won for a sassy little apron. "I'm going to leave the kids with the sitter and have this on when Mikey comes home from work," she said with a wink and a laugh. (After 16 years, if that's not love I don't know what is. The fact that even crossed her mind is amazing to me.) I don't know if Mikey ever saw that apron.
When I woke up on Monday morning, I checked Facebook and saw that Jennie had posted a video called "last dance." It was Mickey and one of their daughters, laughing and having fun. The title confused me. I went to Twitter to see what it was all about. Then I saw it. The tweet. "He's gone. And my heart is shattered in a million pieces." My stomach dropped. I think those words will stay with me forever.
I didn't want to believe it. I told myself she was talking about someone else. Or that something bizarre happened and he left her, knowing for sure he would be back by the end of the day. Not able to make it without her. But then I saw the other tweets. The words I didn't want to read. Heart attack. Dead. And no time to say goodbye.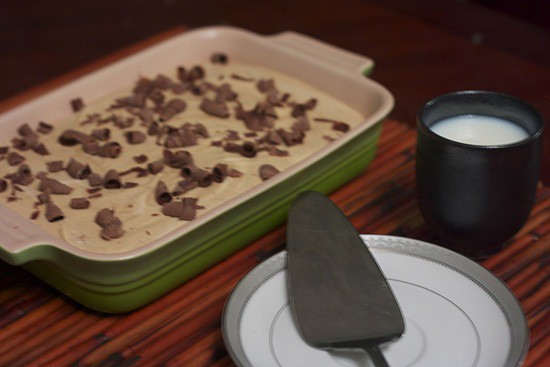 My heart broke. It's not fair! There are so many shitty people in the world; the bad stuff should happen to them. Not to Jennie, who is one of the most kind-hearted people I've ever met and who is never without a smile. Not to Jennie, who is far to young too be left on her own with two little girls. And it's absolutely not fair to those girls. The whole situation just sucks. I would do absolutely anything if it meant taking away some of her grief, even for a few minutes. So many of our blogging friends feel the same way.
Jennie's request was simple. All she wanted was for us to make pie and share it with someone we love. We may not be able to be there in Brooklyn as Jennie says her final goodbye today, but we'll be there in spirit. The last I saw, over 300 people were planning to make chocolate peanut butter pie in memory of Mikey. They'll be sharing it with their friends and family, hugging them close and remembering how precious life is. I know I will.
Creamy Chocolate Peanut Butter Pie
Adapted from In Jennie's Kitchen
8 ounces chocolate wafter cookies

4 Tbs butter, melted

4 ounces chocolate chips

1/4 cup chopped peanuts

1 cup heavy cream

8 ounces cream cheese

1 cup white chocolate peanut butter

1-14 ounce can fat free sweetened condensed milk

1 tsp. vanilla extract

1/2 lemon, juiced
Pulverize the cookies into fine crumbs. Combine with melted butter and mix well. Press into the bottom of a baking dish.
Melt the chocolate in a double boiler. Add 2 tablespoons of the heavy cream to thin it out. Pour over the cookie crumb base. Use the back of a spoon coated in cooking spray to spread the chocolate over the whole base. Sprinkle with chopped peanuts. Refrigerate until ready to use.
Pour the remaining cream into a mixing bowl. Use a hand mixer to beat it until thick peaks form.
Add the peanut butter and cream cheese to a separate bowl. Beat on medium speed until light and fluffy. Add the condensed milk, vanilla, and lemon juice. Beat until smooth. Stir in 1/3 of the whipped cream to thin the batter. Gently fold in the remaining whipped cream. Pout the peanut butter filling into the cookie base. Garnish with chopped peanuts, chocolate drizzle, or chocolate shreds.
Refrigerate at least 3 hours or overnight. Serve with extra love.