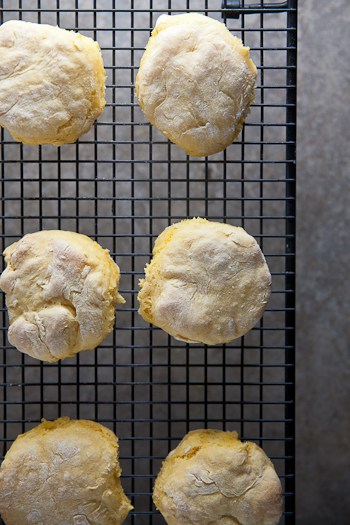 The first time I made these biscuits, this past fall, they were kind of a fluke. I was working on a freelance assignment about sneaking extra vegetables into food and I ended up with some pureed squash left over at the end of the day. I decided to use it in place of the butter in my favorite baking soda biscuit recipe, just to see if it would work, and was surprised to find that it was my favorite recipe of the day!
The dough for these golden squash biscuits comes together like a dream. It's soft and supple and incredibly easy to work with, resulting in tender, flakey biscuits that are practically fool-proof. Once you've made them a few times and are familiar with the recipe, you can have them in the oven in 5 minutes flat. (Until then, it might take closer to 10.)
As an added bonus, these biscuits happen to be fat free! That means you can load them up with delicious filings without feeling guilty. The biscuits don't taste like squash at all (promise) but they do have a very subtle sweetness that makes them perfect with a slip of butter and a drizzle of honey. They're also fabulous with raspberry jam or as a little breakfast sandwich with a slice of ham and a fried egg.
They're best served warm from the oven, but will keep about 3 days in an airtight container.