When we go to one of our favorite local Mexican restaurants* I always order the same thing — tacos de carne asada. Sure I order them because the grilled steak wrapped in a warm tortilla is delicious and the absence of cheese makes them one of the healthiest items on the menu…but really I get them mostly for the onion and cilantro salsa that comes on the side. The salsa is the perfect compliment to the taco, with crunchy little bits of onion balanced out by tons fresh cilantro to keep it from being too strong. I'm not generally a raw onion fan. I pick them out of salads and take them off of my burgers. In this salsa though, they work.
The other night we were trying to figure out what we wanted to do for dinner and I thought about going out for tacos, but it was so nice out and the restaurant doesn't have any outdoor seating (and I absolutely love to eat outside when it's nice out). Plus we had just bought gas for the grill… the next thing I knew, I was juicing limes to make a marinade for the steak. I found two poblanos that I had forgotten I had bought, so I decided to grill those up with some onions and make fajitas instead of tacos. I also added some minced jalapeno to the salsa to kick it up a notch.
For the amount of flavor that these fajitas pack you would expect that they would be labor intensive or use expensive ingredients, but it's very much the opposite. This is a super cheap and easy meal that will be one the table in well under a half hour. If you have any leftovers or don't like tortillas the salsa, marinated steak, and grilled vegetables also go great on a salad topped with a splash of lime vinaigrette.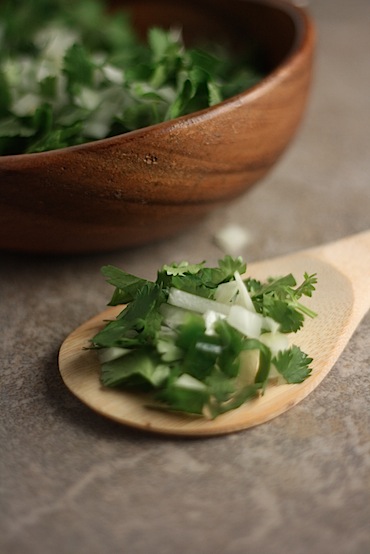 .
Fajitas de Carne Asada with Onion Cilantro Salsa

I like the smokey flavor that the poblano peppers gave to these fajitas, but they can be hard to find in some areas. If you can't find them, feel free to substitute bell peppers. The jalapenos can be omitted or reduced depending on your preferences – I like mine pretty spicy. You also want to be sure to cut the onion and jalapeno for the salsa into a very fine dice so that you don't end up with a huge mouth full of raw onion!

2 limes, juiced

1/2 orange, juiced

2 cloves garlic, mined

1/4 tsp cumin

1/4 tsp cayenne pepper

1 pound top round or flank steak

1 Tbs olive oil

2 poblano peppers

2 small onions

4 jalapeno peppers (optional)

1/2 cup fresh cilantro

salt

flour or corn tortillas for serving

Preheat the grill high.

While the grill is heating, make a quick marinade for your steak by combining the lime juice, orange juice, garlic, cumin, and cayenne. Pierce the steak all over with a fork and place it into the marinade, flipping it over after about 5 minutes if it is not fully submerged.

Sliced the poblanos, 1 onion, and 3 jalapenos into large strips. Toss will the olive oil. Thread onto skewers or place in a grill basket.

When the grill is nice and hot, put on the steak and the vegetables. Cook the steak to your desired level of doneness — for medium, it will take about 8 minutes — and the vegetables until they are soft (about 10 minutes). Remove from the heat and allow the steak to rest for 5 minutes, before slicing it into strips (for maximum tenderness, slice with the grain).

While the steak and vegetables are grilling, prepared the salsa: Tear the cilantro into small pieces. Cut the reserved onion and jalapeno into a very fine dice. Combine the three items and season to taste with a little salt.

Serve the sliced steak, grilled vegetables, and onion cilantro salsa with the tortillas.

Serves 4.



*For those of you in the Albany area, El Mariachi is totally my favorite Mexican restaurant, but we always end up going to Panchos because it's cheap and easy — plus they have a parking lot! The tacos de carne asada I'm talking about come from there. At El Mariachi, I always go straight for either the pork burrito with mole or the Bistec a la Mexicana.

By