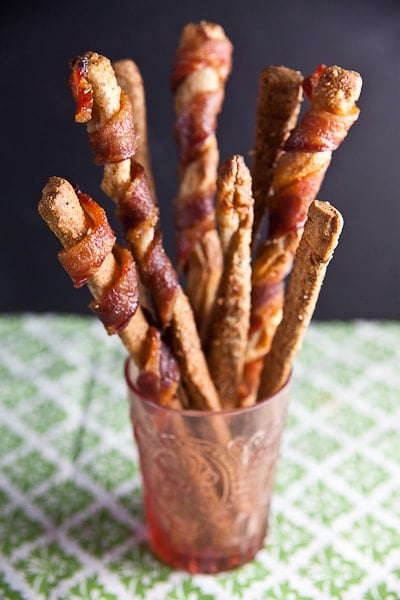 Grissini – thin, crispy Italian breadsticks – make a great holiday appetizer. They're cheap and easy to make and are always a crowd please – especially when they're wrapped with candied bacon! They have a great crunch and are a nice contrast to other appetizers, which tend to be heavier and more filling. You can season them all sorts of ways, from sesame to black pepper to smoked salt or nori flakes. This time around, I chose to make half of mine "fancy" by wrapping them with bacon and kept the other half simple with a sprinkle of rosemary and parmesan cheese.
I used Pillsbury artisan pizza crust with whole grains to make the breadsticks, and I adored the slightly sweet-slightly nutty flavor and bumpy, rustic texture it gave them. Starting with the prepared dough means that these are really simple to make – just unroll it, slice it, and roll them (giving them a single fold first to help provide a little structure). Go crazy with your toppings and they're ready for the oven! Just note that for the bacon wrapped grissini, you'll need a cooling rack or some other type of contraption that will raise them up out of the rendered fat – otherwise, they wont crisp up and you'll be left with floppy breadsticks.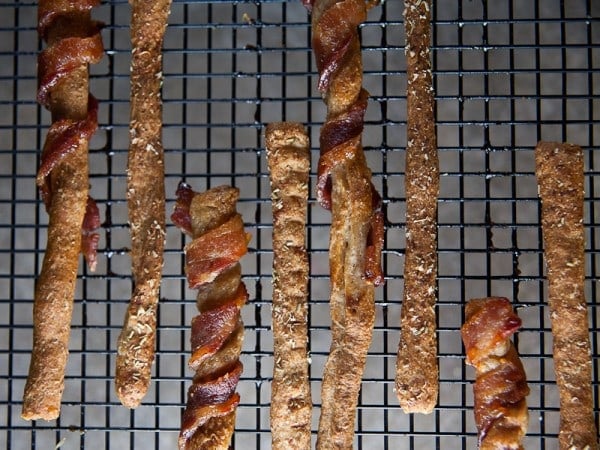 Easy Grissini Two Ways: Bacon Wrapped + Rosemary Parmesan
Baking these grissini on a cooling rack will keep them out of the rendered bacon grease and help them crisp up – just be sure to use a rimmed pan below to catch the drips! Thinly sliced, lean bacon works best for this recipe – avoid thick-cut bacon. If your bacon is very fatty, you might find that you only want to use the meatier half of each slice.
Want more appetizers? Try Scallops with Minted Pea Sauce, Oven Toasted Ravioli, or Roasted Figs with Roquefort.
Yields 32 breadsticks
Prep Time: 15 minutes; Total Time: 8-10 hours
Ingredients
1 can (13.8 ounces) Pillsbury Refrigerated Artisan Pizza Crust with Whole Grain
For Bacon-Wrapped Grissini:
1/4 cup Light Brown Sugar
1/16 teaspoon Cayenne Pepper
16 slices Bacon
For Rosemary-Parmesan Grissini:
1/4 cup freshly grated Parmesan Cheese
1 teaspoon Crushed Rosemary (dried)
Preparation
Heat oven to 400F. Spray cooling rack with cooking spray and place on a rimmed baking sheet.
Unroll dough. Cut n half lengthwise and widthwise; cut each dough section lengthwise into 8 strips. Fold each strip in half; roll to form an 8-inch rope. Repeat with remaining dough.
For bacon wrapped grissini: Cut bacon in half lengthwise; combine the brown sugar and cayenne in a small bowl. Starting at one end, carefully wrap each dough rope with bacon, covering the top third of the dough. Sprinkle with brown sugar mixture. For Rosemary-Parmesan Grissini: Sprinkle each dough rope with finely grated cheese and crushed rosemary.
Transfer to prepared cooling rack. Bake 30 minutes, or until breadsticks are crisp. Remove from oven and let cool. Serve at room temperature.
Bacon Grissini:

Rosemary-Parmesan Grissini:
This post was brought to you in partnership with Pillsbury. I was compensated for my time creating this recipe. All opinions are my own.

By