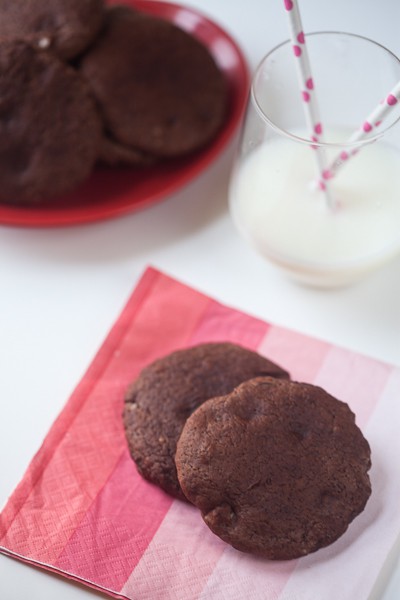 For some reason, I'm super into Valentine's Day this year. Not for the mushy, lovey-dovey stuff, but in the old-school "let's break out the pink and red construction paper, doilies, and glitter" sort of way. Remember when you used to give valentine's to everyone you knew? This year, I'm bringing that back.
With cookies.
Specifically, with these double chocolate and red wine cookies (and also with some tequila-lime cookies that I'll share next week) that are perfect for sharing with all of your very best friends. Because what says Valentine's Day more than chocolate and red wine?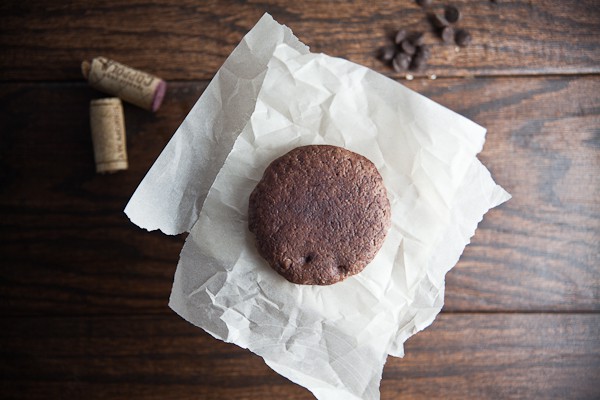 Chocolate and red wine both have an intense, earthy flavor that balances out the sweetness in baked goods. You probably wouldn't be able to tell that there was wine in them if you didn't know ahead of time, but it gives them an interesting flavor that will make you wonder what the "secret" ingredient is. The combination must be very popular this year, because in the approximately 5 minutes that I've had to spend catching up on my favorite blogs this week I came across not one but two other treats using this combination! (Jessica's Cabernet Chocolate Truffles and Gaby's Red Wine Brownies both look awesome!)
For more Valentine's Day cookies ideas, check out the Betty Crocker Cookie Headquarters.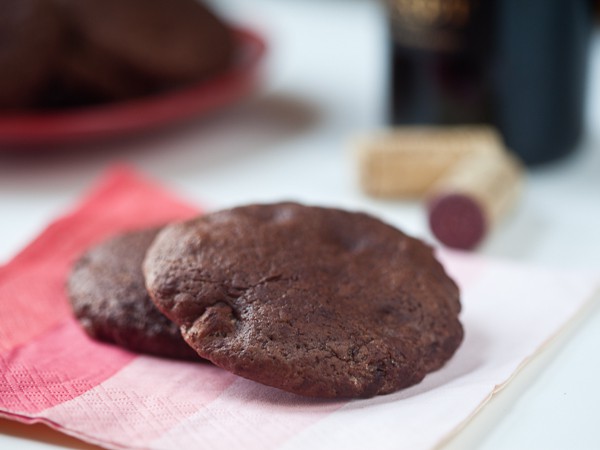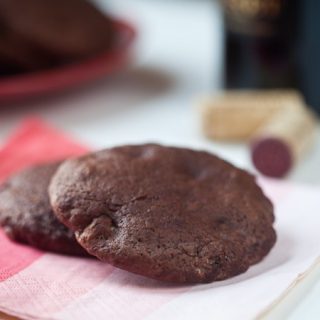 Double Chocolate + Red Wine Cookies
Red wine reduced into a thin syrup infuses these mildly-sweet cookies with flavor; swapping out some of the butter for Greek yogurt reduces that fat and keeps them super soft. They taste best after they've sat overnight, which makes them perfect to give as gifts.
Ingredients
1/2 cup Red Wine
4 tablespoon Butter, softened (not melted)
1 Egg
4 tablespoons Fat Free Plain Greek Yogurt
1 pouch (17.5 ounces) Betty Crocker Sugar Cookie Mix
1/3 cup Unsweetened Cocoa Powder plus additional for dusting
1/2 cup Chocolate Chips
Instructions
Heat oven to 350°F.
Add red wine to small pan set over medium-high heat. Bring to a simmer, stirring frequently; thicken and reduce by half, about 8 minutes. Let cool.
In mixing bowl, beat together butter, egg, and yogurt until smooth. Add cookie mix, cocoa powder, and reduced wine; mix to form a soft dough. Stir in chocolate chips.
Use tablespoon to form dough into 12 balls; dust with additional cocoa powder. Arrange 2 inches apart on ungreased baking sheet. Flatten slightly with back of spoon. Bake 9-12 minutes. Let cool 1 minutes; transfer to cooling rack to cool completely.
This post was brought to you in partnership with Betty Crocker. The recipe for double chocolate and red wine cookies and all opinions are my own. Always have been, always will be.

By