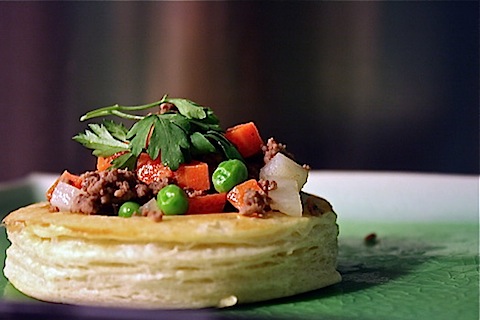 I can't believe its time for this month's Daring Bakers post already! I kind of let this month get away from me, and I ended up not completing this month's challenge until the day that it was due. But better late than never, right? I'll admit that part of the reason I was so late was that I was really intimidated by this challenge – homemade puff pastry? Are you kidding me? In addition to procrastinating because of that, they also gave us options. I am not good with options! I couldn't decide what to do – I had so many ideas and couldn't even decide if I wanted to go sweet or savory. I ultimately ended up doing both, but my sweet version is for another day (tomorrow….)
The September 2009 Daring Bakers' challenge was hosted by Steph of A Whisk and a Spoon. She chose the French treat, Vols-au-Vent based on the Puff Pastry recipe by Michel Richard from the cookbook Baking With Julia by Dorie Greenspan.
Once I got over the initial intimidation of making puff pastry, I realized that it isn't that different from making croissants. Both of these essentially use the same principle as making a flaky pie crust: butter is incorporated into the dough but is left in little pieces. The butter melts in the oven and creates steam pockets, which end up being your flakes. To shape the pastry into vols-au-vent, you just stack a ring shape on top of a circle. It really wasn't that difficult, although I think I incorporated my butter a little too well (I halved the recipe, but didn't take that into account when I was rolling the pastry to do the folds, so it ended up too thin). This meant that it didn't puff quite as much as I would have liked it to, but it was still delicious.
For my savory version, I decided to use a Cornish pasty inspired filling. The one I at in Bermuda reminded me how much I love them, and the puff pastry seemed like it would be an ok substitute for the traditional pastry. It also seemed like it would be pretty easy to make, and since I was putting so much effort into the vols-au-vent (which honestly weren't as difficult as they were time consuming) I didn't want the filling to be complicated. I think this was a great filling choice, and the final dish was delicious.
Cornish Pastry Vols-au-Vent
1 recipe vols-au-vent (below)
1/2 lb. lean ground beef
1 turnip, diced
2 carrots, peeled and diced
1/2 onion, diced
1 cup frozen peas
1 Tbs parsley, chopped
salt and pepper
Fill a saucepan with a steamer insert with water and bring to a boil. Add the carrots and turnips and steam until just tender – about 5 minutes.
Meanwhile, heat beef and onions in a skillet over medium heat. Season with salt and lots of pepper. When the beef is fully cooked, stir in the carrots, turnips, peas, and parsley. Cook another minutes or until, until peas are brought to temperature. Serve in vols-au-vent shells.
Serves 4.
Vols-au-Vent
1-1/4 cups AP flour + more for dusting
3/4 cups cake flour
dash salt
3/4 cup ice water
2 sticks unsalted butter
egg wash (1 egg yolk + 1 Tbs water)
Combine flours and salt in a food processor. Pulse a few times to mix. Add the water, and process until the dough forms a ball. Remove the dough and make a "#" across the top with a sharp knife. Set aside and let rest for 5 minutes.
Meanwhile, place the butter between 2 sheets of plastic wrap and beat it with a rolling pin until it flattens into a square that's about 1″ thick. Take care that the butter remains cool and firm: if it has softened or become oily, chill it before continuing.
Incorporating the Butter:
Unwrap the dough and place it on a work surface dusted with all-purpose flour (A cool piece of marble is the ideal surface for puff pastry) with your rolling pin (preferably a French rolling pin without handles), press on the dough to flatten it and then roll it into a 10″ square. Keep the top and bottom of the dough well floured to prevent sticking and lift the dough and move it around frequently. Starting from the center of the square, roll out over each corner to create a thick center pad with "ears," or flaps.
Place the cold butter in the middle of the dough and fold the ears over the butter, stretching them as needed so that they overlap slightly and encase the butter completely. (If you have to stretch the dough, stretch it from all over; don't just pull the ends) you should now have a package that is 8″ square.
To make great puff pastry, it is important to keep the dough cold at all times. There are specified times for chilling the dough, but if your room is warm, or you work slowly, or you find that for no particular reason the butter starts to ooze out of the pastry, cover the dough with plastic wrap and refrigerate it . You can stop at any point in the process and continue at your convenience or when the dough is properly chilled.
Making the Turns:
Gently but firmly press the rolling pin against the top and bottom edges of the square (this will help keep it square). Then, keeping the work surface and the top of the dough well floured to prevent sticking, roll the dough into a rectangle that is three times as long as the square you started with, about 24″ (don't worry about the width of the rectangle: if you get the 24″, everything else will work itself out.) With this first roll, it is particularly important that the butter be rolled evenly along the length and width of the rectangle; check when you start rolling that the butter is moving along well, and roll a bit harder or more evenly, if necessary, to get a smooth, even dough-butter sandwich (use your arm-strength!).
With a pastry brush, brush off the excess flour from the top of the dough, and fold the rectangle up from the bottom and down from the top in thirds, like a business letter, brushing off the excess flour. You have completed one turn.
Rotate the dough so that the closed fold is to your left, like the spine of a book. Repeat the rolling and folding process, rolling the dough to a length of 24″ and then folding it in thirds. This is the second turn.
Chilling the Dough:
If the dough is still cool and no butter is oozing out, you can give the dough another two turns now. If the condition of the dough is iffy, wrap it in plastic wrap and refrigerate it for at least 30 minutes. Each time you refrigerate the dough, mark the number of turns you've completed by indenting the dough with your fingertips. It is best to refrigerate the dough for 30 to 60 minutes between each set of two turns.
The total number of turns needed is six. If you prefer, you can give the dough just four turns now, chill it overnight, and do the last two turns the next day. Puff pastry is extremely flexible in this regard. However, no matter how you arrange your schedule, you should plan to chill the dough for at least an hour before cutting or shaping it.
Making the vols-au-vent:
Roll the dough to about 1/4″ thickness. Use a 4″ cookie cutter to cut out several large circles that will be the base of your pastry (if you don't have a cookie cutter large enough, use a sharp knife to trace around a template – I used a creme brulee ramekin). Set aside half of these circles. To make the edges, use a second, smaller cookie cutter (about 2″) to cut out the centers. Stack the scrap and re-roll them, being careful not to handle them too much (note that these will not rise as much, so do not use rerolled dough for the sides if your pastry)
Proof the bases, by pricking them gently with a fork several time (don't go all the way through) – this will prevent them from rising as much. Brush with egg wash. Stack a dough ring on top, pressing down gently to make it adhere. Brush top with egg wash.
Refrigerate until the oven has heated to 400.
Place a silicon baking sheet to piece of parchment over top of your vols-au-vent to help them rise evenly. Bake for 10-15 minutes or until they begin to rise. Remove the baking mat/ parchment and reduce heat to 350. Bake an additional 20 minutes. Use right away or store overnight in an airtight container. Alternately, formed vols-au-vent can be frozen raw (brush them with the egg wash right before baking, and bake from frozen – add 5 minutes or so to baking time)
Yields about 1-1/4 cup puff pastry dough.