Traditional chicken noodle soup gets an international update with curry paste, turmeric, and cilantro.

This time of year always makes me nostalgic for home. Not because of the holidays, but because when the weather gets cold my mom starts cooking up a storm.
Soup, chili, homemade bread – if it's cozy comfort food, she probably has it on her stove right now. I remember one time when I was in high school she made four pies for no apparent reason except that she felt like it. (It's not difficult to guess where I inherited my love of cooking from.)
Growing up, my favorite was always when she made soup. Her minestrone is my favorite – it has lots of marjoram and is pretty much the best minestrone ever – but she also makes a mean chicken noodle soup. It's like a giant warm hug when you come in from the cold.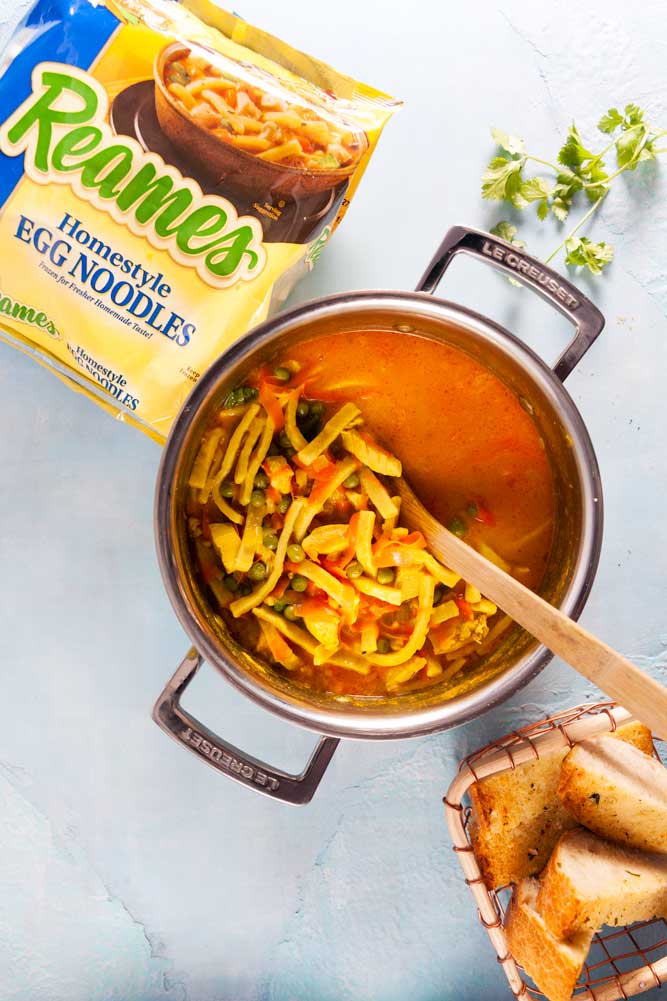 No matter how hard I try, my soup never tastes like hers. Instead of trying and being disappointed, I like to go way off the beaten path with something new of my own recipes like miso potato soup with crispy chickpeas, creamy cauliflower soup with smoked paprika, or this curried chicken noodle soup. It has the basic elements of traditional chicken soup – right down to the egg noodles – but the broth is kicked up with red curry paste, turmeric, and creamy coconut milk. It has a definite Thai vibe, without venturing all the way into curry territory.
This curried chicken noodle soup only takes a half hour to make, but its rich, warm flavors make it taste like it was simmering all day. Reames homestyle egg noodles add to the homemade feel. They come frozen instead of dried, and they're fat and chewy with a real homemade taste. Here's a coupon you can print at home for 50-cents off if you want to try them yourself.
For a chance to win a $50 VISA giftcard, courtesy of Reames, leave a comment sharing a recipe that reminds you of home. I'll pick a random winner on 12/31.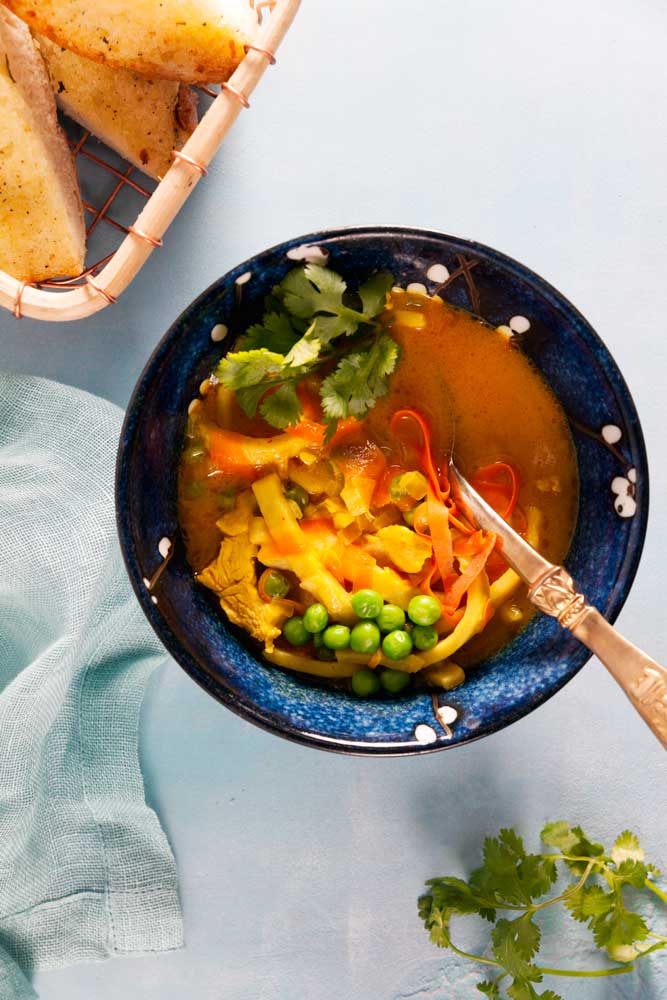 This is a sponsored conversation written by me on behalf of Reames®. The opinions and text are all mine.