Is there anything better than a quiet morning spent with your husband and dog, a cup of coffee, and a fresh out of the oven croissant? Yeah, I don't think so.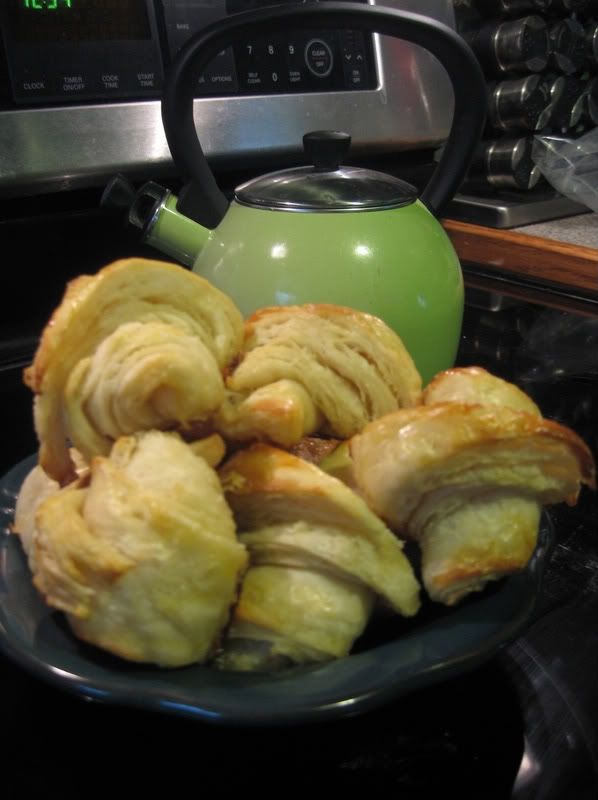 Now, before you say "LK you are crazy! This blog is supposed to feature healthy food, but you really have a secret plan to make us all fat!" All in moderation, my friends. I'd much rather have a small (but not too small- I don't like to be hungry!) portion of something delicious, than a bunch of "diet" food that makes me feel like I'm being deprived. I lost three pounds in the last two weeks eating like this, so there.
A word of warning: this recipe does require some advance planning. It takes a few days to make the dough. Don't let that stave you off though! They are SUPER easy to make, and each step only takes a few minutes. It just means that if you want to eat croissants on Sunday, you need to start on Friday night. Also, if you have a stand mixer or food processor with a bread hook, I highly recommend that you use it. If you want to flavor these at all, you can add a flavoring in with the original flour. I added orange zest to my last batch- yum!
There are two options for freezing. They both work well, but aren't quite as good as fresh. You can either freeze the unbaked dough (stop before the egg wash…to bake, just pick up where you left off and add 5 minutes to the baking time) or freeze the baked croissants wrapped tightly in plastic wrap. Unfrozen, these will stay fresh about three days.
1 c. plus 3 T. milk (I use skim since its what I have, and its fine)
2 tsp. yeast
2 1/4 c. plus 3 T. flour
2 T sugar
1 tsp salt
12 T. unsalted butter
1 egg yolk
Day 1 (Friday night):

1. Heat 1 cup milk to lukewarm. Dissolve the yeast in 1/4 cup of this milk. Stir in 2 T, and whisk until there are no lumps. Cover with plastic wrap and let sit for about 20 minutes.

2. Mix sugar and salt into 2 cups plus 2 T flour.

3. Add remaining 3/4 cup milk to milk/yeast/flour mixture, stirring at high speed. Reduce speed to medium, and gradually add flour mixture, until it forms a soft, sticky dough.

4. Cover with plastic wrap and refrigerate overnight.

Next morning:

1. Combine butter with 3 T. flour.

2. Roll dough into a rectangle, about 6×15. Spread the butter all over the top 1/3. Fold the dough into thirds (like a letter). Turn dough clockwise 1/4 turn. Roll and fold a second time.

3. Put dough on a baking pan, cover with plastic wrap, and refridgerate.

Afternoon:

1. Roll dough out two more times 9this is what makes it flaky). Cover and refridgerate overnight.

Croissant Morning!:

1. About an hour before baking time, roll the dough into a circle. Cut into 12 triangles. Roll each triangle straigh un, starting with the wide end (don't curl them into a croissant shape, they"ll do that on their own). Arrange on a baking sheet, and brush with 2 T milk. Let stand at room temp for about a half hour, until doubled.

2. Heat oven to 400. Mix egg yolk with 1 T milk, and brush over croissants. Bake for 15 to 20 minutes.

3. Enjoy!!

By