(Before I start talking about these cookies, I'll let you know that there's a great giveaway at the end of this post. Including FREE CHEESE!)
Ok, now that that's out of the way…..
I'm not going to go on and on about how these are the best chocolate chip cookies in the world. I promise. Everyone thinks they're recipe is the best and, honestly, few stand up to the one that printed on the back of the bag of chocolate chips. But sometimes you're looking for something different. Something… crispier! Soft, gooey cookies have their place but sometimes I just want a little bit of crunch. They're great for dunking in eggnog (I don't like dunking soft cookies – they get too soggy) and they keep really well. They best chocolate chip cookie recipe ever? I'll leave that up for debate. But let's just say if I was Santa, whatever kid left me a plate of these would be written on the "nice" list in permanent marker.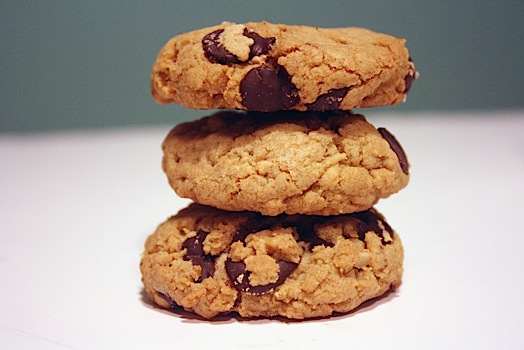 Crispy or chewy, there's a few things that make a great chocolate chip cookie: Lots of brown sugar, but not too sweet. LOTS of chocolate. And a light sprinkle of fleur de sel over the top. What's that? Yeah, you read right. A small sprinkle of sea salt adds a delicate crunch to these cookies and is awesome against the chocolate. Now we're not talking enough salt to actually make these cookies salty… just enough to make the flavors come alive. Try it, and you'll see. I wouldn't have my chocolate cookies any other way.
One other thing – I can't stand when cookies have big chunks of walnuts in them. Ew. Until recently, I thought I actually just didn't like walnuts. I was wrong. I do like them – just not in big pieces! I incorporated some ground walnuts into this recipe – it adds a subtle nutty flavor without being overpowering or interfering with the texture in the way that pieces of nut does.
Like I mentioned above, these cookies are crispy. Not overcooked or hard – I made them crispy on purpose! The texture is the same throughout, and its hard to find anything appropriate to compare it to. I guess you could say they're like chips ahoy, but much, much better and with a much more delicate crumb. It took quite a bit of research to figure out how to get my cookies to be this texture! The answer is pretty scientific, but not at all complicated: use cold butter. That's right! No waiting for your butter to come to room temperature! If you think about it, it makes sense… cookies spread and get soft when the butter melts (because once it's melted, the butter stays soft once the cookies cool off). Butter that's starting at room temperature will melt much faster than butter that's starting out cold. So cold butter means it won't melt as much in the oven, which means the cookies will be thicker and crispier. And there's your science lesson for the day. 😉
1 stick butter, chilled

1/4 cup white sugar

3/4 cup brown sugar

1 egg

1 tsp vanilla

1 3/4 cup flour

1/4 cup walnuts, ground (pulse in your food processor until it has the texture of coarse flour)

3/4 tsp baking soda

1/2 tsp salt

8 oz. chocolate chips (I actually prefer pastilles if you can find them)

fleur de sel
Preheat your oven to 350.
Use eggbeaters or a stand mixer to cream together the butter and sugars. Mix for about 5 minutes, or until mixture begins to look smooth and incorporated. Mix in the egg and vanilla. Scrape down the sides of the bowl. Mix the flour together with the baking soda and salt. Add half the flour. Mix to combine, scraping down the bowl as needed. Mix in the remaining flour and the ground walnuts. Fold in the chocolate chips.
Drop by the tablespoon-full onto a baking sheet that has been lined with parchment or a silpat. Sprinkle very lightly with fleur de sel. Bake for 13 minutes – cookies will look a little bit light, but should be cooked in the middle. They will darken a touch after they sit.
Yields about 3 dozen cookies.
Approx. 98 calories, 4.7 grams fat, 0.5 grams fiber, 1.3 grams protein

*******
I'm sending this recipe to Jennie for her 12 Days of Sharing virtual cookie swap. The swap is being done to raise money for Share our Strength, a great organization that seeks to make sure no child goes hungry. They do some great work by going into lower-income communities and teaching people ho to cook cheap, nutritious meals. If you make a monetary donation through the swap, you'll be entered to win some great prizes too.
*******
Giveaway time!
The people over at President Brie saw my baked brie with cranberry and pear and generously offered to send one of you their Brie Home Entertaining Kit! They sent me one too, and I'm so excited for this because it's awesome! You'll get:
a beautiful cheese board that had a little hidden drawer with a fork, knife, and spreader

some place cards and place card holders

a sharpie pen

and THREE brie logs (packed inside a little lunchbox!)
Now that's a giveaway! It comes wrapped up all pretty and it's totally like Christmas came early.
Want one? All you have to do is leave a comment on this post telling me your favorite holiday cookie or appetizer. For an extra entry, you can tweet about this contest (reference @healthydelish in the tweet so I see it!).
I'll enter all of the entries into excel and will use random.org to pick one winner at 9pm next Wednesday, December 16.
THIS GIVEAWAY IS LIMITED TO READERS IN THE US AND CANADA ONLY. (To those of you who live elsewhere, I apologize, but they're doing the shipping so they make the rules on that one!)