Duck has a little bit of a bad reputation. People think it's fatty, greasy, and finicky to cook. With a little know-how and understanding of the cooking process though, it's a great protein choice with tons of flavor. And – according to the self nutrition database – it only has about 2 calories more per ounce than chicken!
This recipe is adapted from one of my favorite cookbooks, The French Market: More Recipes from My French Kitchen. I picked the book up randomly one summer in a local bookshop, and it quickly became one of my favorites. The recipes are filled with fresh ingredients inspired by the French countryside. These aren't fussy classical French dishes that you'd find in a 5-Star restaurant – they're simple to throw together and have a casual, family style to them. They're also, for the most part, easy to adapt to fit into a healthy lifestyle.
In this recipe, duck legs and thighs are seasoned with orange zest and then cooked until the skin is perfectly crisp and the meat is juicy and succulent. The duck is served over a simple salad made from wilted carrot, fennel, celery, and red pepper. The dish is bright and citrusy, slightly spicy and smokey, and definitely a step up from chicken. I made rice for Shawn, but personally skipped it in favor of a second helping of the salad.
The trick to cooking duck without ending up with a greasy mess is to cut a deep crosshatch pattern into the skin – it will take a little effort, but try to get all the way down to the meat. Ducks carry a thick layer of fat under their skin to act as insulation against the cold water. If this fat isn't properly cooked off, the duck can be fatty and greasy. Cutting into the skin allows the fat a way to escape. As the duck heats up, the fat will melt and seep through the cuts and into the pan. By the time the meat is coked through, there will be very little fat left on the duck itself. (As an added bonus, all of the rendered fat will have the effect of deep frying the duck, resulting in deliriously crispy skin!)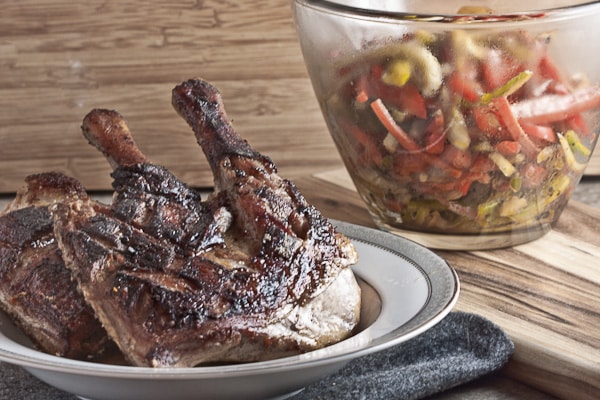 Crispy Duck with Orange-Fennel Slaw
Serves 4
Prep Time: 30 minutes; Total Time: 1 hour
Ingredients
2 Duck Quarters (Leg and Thigh), about 12 ounces total
Zest and juice from 1 Orange
1 Tablespoon Olive Oil
1 Fennel Bulb, cut into matchsticks
3 Carrots, peeled and cut into matchsticks
3 ribs Celery, cut into matchsticks
1 Red Bell Pepper, cut into matchsticks
1 bulb Garlic, minced
1 Serrano Chile, minced
Salt and Pepper
Preparation
Use a sharp knife to score the skin of each duck leg/thigh in a crosshatch pattern. Season with salt, pepper and orange zest.
Mix the orange juice and chiles in a small dish. Add the fennel, carrots, celery, bell pepper, and garlic. Cover and set aside.
Over high heat, heat the olive oil in a pan that's just large enough to fit the duck pieces. When the oil is hot, add the duck, skin-side down. Cook without moving for 5 minutes. Reduce the heat to medium-low and cook for 10 minutes, or until skin is golden brown and crispy and most of the fat has rendered. Turn so the skin-side is up and cook an additional 20 minutes. Drain the fat from the pan and remove the duck to a plate. Cover with foil and let rest 10 minutes.
Add the vegetables, along with any liquid that has accumulated, to the hot pan. Cook for 2-3 minutes, or until vegetables just begin to soften. Remove from heat and season with salt and pepper. Cut the duck into four portions and serve over the slaw.
Approx. 442 calories, 29 grams fat, 17 grams carbohydrates, 5.5 grams fiber, 13.5 grams protein


Disclosure: This post contains Amazon affiliate links. If you make a purchase through them, I will earn a very small commission.

By