Two-bite crispy chocolate peanut butter energy balls are just what you need when you're looking for an afternoon pick-me-up. Dates add a touch of natural sweetness and peanut butter, chia, and flax add plenty of filling protein.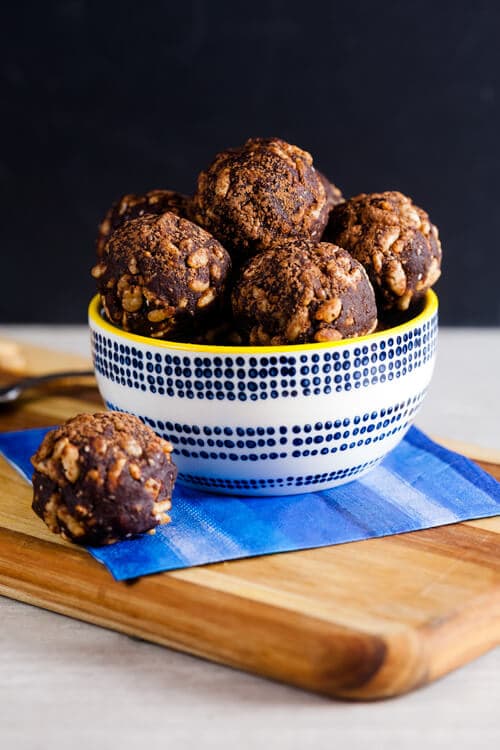 March 25 is a special day: chocolate peanut butter day! Or at least the official unofficial chocolate peanut butter day. There are a ton random food holidays out there – from garlic day to margarita day – but until last year there was no day devoted to celebrating one of the most classic flavor combinations around: chocolate and peanut butter. Obviously that needed to get fixed. which is why today Carla of Chocolate Moosey and Miriam of Overtime Cook are hosting the second annual chocolate peanut butter day!
I didn't participate in last year's event because I couldn't think of a healthy recipe to feature these two ingredients, but this year I was inspired by my favorite peanut butter cup green smoothie and make these chocolate peanut butter energy balls. I've been eating them all week, and they're seriously good.
These chocolate peanut butter energy balls are sweetened with dates, so they're sweet but don't set me off on a sugar rampage. They're the perfect nibble to combat that 3pm slump. I added crisp brown rice cereal to give them some texture and crunch, but you can play around with whatever you happen to have around. Rolled oats would work well, but you can also try chopped nuts or even a small handful of cocoa nibs.

Ingredients
1

cup

pitted dates

1

tablespoon

coconut oil

melted

¼

cup

natural peanut butter

¼

cup

unsweetened cocoa powder

1

teaspoon

vanilla

1

tablespoon

flax meal

1

tablespoon

chia seeds

1

pinch

sea salt

½

cup

crisp brown rice cereal

cocoa powder for dusting

optional
Instructions
Soak the dates in hot water for 5-10 minutes, or until soft and plump. Drain.

Add the dates and coconut oil to a food processor or high speed blender. Process until a smooth paste is formed, about 30 seconds (scrape down the sides as needed.) Add the peanut butter, cocoa powder, vanilla, flax meal, and chia seeds. Process until smooth – it should resemble a thick brownie batter. Transfer the paste to a mixing bowl; stir in the brown rice cereal.

Roll the mixture into tablespoon-sized balls. Dust with cocoa powder if desired.

Store in the refrigerator.
Nutrition Facts

Crispy Chocolate Peanut Butter Energy Balls

Amount Per Serving

Calories 93

Calories from Fat 45

% Daily Value*

Fat 5g8%

Protein 3g6%

* Percent Daily Values are based on a 2000 calorie diet.

If you love chocolate + peanut butter, check out the rest of the treats people are sharing for Chocolate Peanut Butter Day!

Peanut Butter Chocolate Chip Cookie Bites by Carla from Chocolate Moosey

Peanut Butter Cup Cookies by Miriam from Overtime Cook

Chocolate Peanut Butter Twix Cake by Susan from The Girl In The Little Red Kitchen

{Healthy} Peanut Butter Chocolate Chip Oat Bars by Kayle from The Cooking Actress

Chocolate Drizzled Peanut Butter Tiger Paws by Renee from Kudos Kitchen by Renee

Chocolate Chip Peanut Butter Dip by Becca from It's Yummi

Dark Chocolate Peanut Butter Cup Cake by Erin from The Spiffy Cookie

No-Bake Chocolate Peanut Butter Pie by Lisa from Snappy Gourmet

Espresso Chocolate Cake with Peanut Butter Frosting and a Rum Drizzle by Barb from Creative Culinary

Chocolate Peanut Butter Tandy Cake by Cindy from Cindy's Recipes and Writings

Chocolate-Glazed Peanut Butter-Stuffed Doughnuts by Coleen from The Redhead Baker

4 Ingredient Chocolate & Peanut Butter Candy by Colleen from Souffle Bombay

Ganache-Stuffed Peanut Butter Bars by Karen from The Food Charlatan

Microwave Chocolate Peanut Butter Protein Pancakes by Taylor from Food Faith Fitness

Flourless Chocolate Cake with Peanut Butter Icing by Shashi from Runnin Srilankan

Chocolate Filled Peanut Butter Cookie Cups by Stacy from Food Lust People Love

Peanut Butter Filled Chocolate Lava Cakes by Anita from Hungry Couple

Peanut Butter Chocolate Chip Ice Cream by Renee from Magnolia Days

Crispy Chocolate Peanut Butter Energy Bites by Lauren from Healthy Delicious

Tagalong Dip by Liz from That Skinny Chick Can Bake

Peanut Butter Chocolate Chip Bundt Cake Nancy from gotta get baked

Small Batch Chocolate Peanut Butter Doughnuts by Sarah from What Smells So Good?

Funky Monkey Banana Chocolate Peanut Butter Energy Balls by Brianne from Cupcakes & Kale Chips

Chocolate Peanut Butter Chocolate Chip Cookies by Diane from Created by Diane

Chocolate, Peanut Butter, & Roasted Banana Shake by Jennie from The Messy Baker

Chocolate Peanut Butter Magic Bars by Jen from Jen's Favorite Cookies

Chocolate Doughnuts with Peanut Butter Glaze by Lauren from Lauren Kelly Nutrition

By