I've hinted at it here and said it without saying it there, but since the beginning of the year I've been working on a lot of fun, recipe related projects. The biggest one is that I've been working with General Mills as the newest blogger for their healthy recipe site, Eat Better America. Since January, I've been sending them about one new recipe a week. Then I sit back and wait, and wait, and wait fo them to be published. The have a pretty intense editorial calendar and I knew going into it that there would be a long delay before my recipes went up – I was making "spring" themed recipes in February – but it was still hard to be patient.
Well, my first post is finally up – a green smoothie just in time for Earth Week! This isn't your typical green smoothie though. I left the spinach and kale in my salads where they belong, and added an avocado instead. It makes the smoothie thick and creamy like a milkshake – it's hard to believe it's dairy free! The avocado also adds a really subtle, complex flavor (no, it doesn't taste like guacamole. I promise!)
As much as I love the original recipe, I also love to play around with it to add new flavors. For something sweeter and less green, swap out the banana for frozen mixed berries and add a teaspoon of unsweetened cocoa powder. You'd never even know there was avocado in it – think of it as an avocado smoothie with training wheels.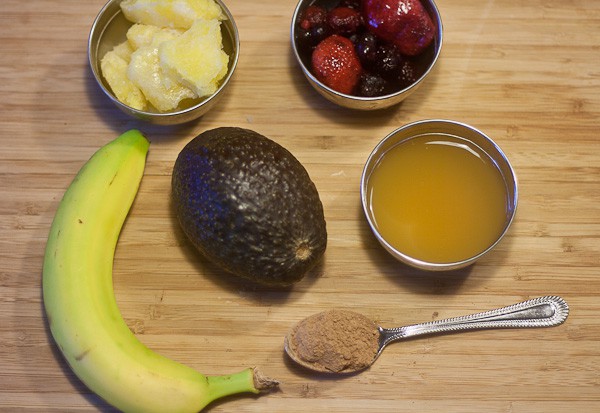 I'm also working on a new feature here on Healthy. Delicious. that will help you save and organize your favorite recipes. A "save" button will now sit at the top of each recipe I post, right next to the print button. If you create a free account with ZipList, you'll be able to save any recipe you choose to a virtual recipe box. You'll be able to tag, sort and search the recipes that you've saved and make grocery lists based off of them! I've added two new links to my navigation bar that will help get you started – "Recipe Box" will bring you to your personalized recipe box and "Shopping List" will allow you to add and delete recipes and ingredients from your shopping list.
The best part is that lots of other sites I love (Simply Recipes, Bell'alimento, Whats Gaby Cooking, and Savvy Eats, to name a few) use the same service, and the recipes you save from them will go right into the same box (ie. your recipe box isn't limited to just my recipes). Fun, right? I'm kind of a spaz when it comes to organizing recipes that I see online and want to make so I really love this idea. I hope you do too!
So far, I've added the save button to all of the recipes I posted in 2012. I'm working on adding it to the archives too – hopefully within the next few weeks you'll be able to save any recipe I've ever posted.
By