Are you looking for ways to use leftover cranberry sauce after Thanksgiving? Repurpose it by making a sweet-tart topping for the cinnamon cranberry dessert tacos!
Remember those absolutely brilliant Stand 'N Stuff Soft Tortillas that I used for my Korean tacos a few months ago? Ever since I first heard of them, I've been dying to use them for a dessert. They're the perfect size and shape to hold two small scoops of ice cream. They're also perfect for holding soft scrambled eggs and salsa verde, but that's another recipe…
So, when Old El Paso asked me to create a taco using Thanksgiving leftovers, it took me about 30 seconds to decide what I wanted to make: cinnamon cranberry dessert tacos. (It would have been even less time, but I was briefly distracted by the idea of sweet potato and mole tacos.)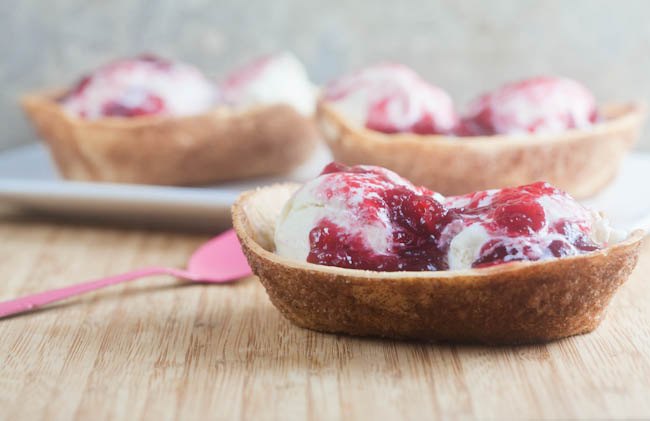 For the edible bowls, I was inspired to do a twist on sopapillas, one of my favorite desserts. I brushed the tortillas with melted butter and sprinkled them with cinnamon-sugar, then baked them until they were crisp. Baking the tortillas takes away the raw flour taste and makes them more dessert-y. It also gives them a little more structure, so they can hold the ice cream better.
Then, I mixed up a quick topping using canned cranberry sauce. You can use a fresh can of sauce for this, or repurpose any that you have left over after your Thanksgiving dinner. I sweetened the cranberries with a little honey (another traditional component of sopapillas) and a touch of vanilla. I absolutely loved the sweet-tart sauce over vanilla bean ice cream. It reminded me of a grown-up take on a classic sundae.
Ingredients
3

tablespoons

sugar

1

tablespoon

cinnamon

1

package Old El Paso® Stand 'n Stuff Flour Tortillas

2

tablespoons

butter

melted

2

cups

cranberry sauce

preferably whole berry

1

teaspoon

honey

¼

teaspoon

vanilla

2

pints

vanilla ice cream
Instructions
Heat oven to 350ºF.

In a small bowl, combine sugar and cinnamon. Brush outside of tortillas with melted butter.; sprinkle with cinnamon-sugar, covering the tortillas completely. (Discard any extra cinnamon-sugar or reserve it for another use.) Arrange the tortillas on a baking sheet and bake for 10 minutes, or until the top edge begins to brown. The tortillas will still be soft when you take them out of the oven, but they'll crisp up as they cool. Let cool completely.

In a small saucepan, heat the cranberry sauce over low heat. Stir in the honey, vanilla, and two tablespoons water. Let cool.

To serve, scoop two small scoops of ice cream into each tortilla cup. Top with cranberry sauce.
This post was sponsored by Old El Paso. Thank you for supporting the brands that keep me inspired in the kitchen.

By