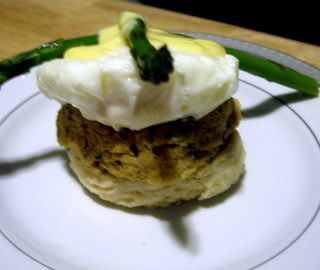 Rachel Ray may not be my favorite, but I can stand her. Sandra Lee on the other hand… not so much. Its no so much her personally that bothers me as its the perky "as long as I make the table pretty and serve lots of booze, no one will notice that the 'chili' I'm serving is canned beef stew mixed with tabasco!" attitude. Which makes me hate myself for posting this because it's well….very Sandra Lee-ish. But whatever. It was good and it was fast. I wouldn't have had time to make the "Real" version of this on a worknight.
I used frozen crabcakes- chesapeake bay low fat frozen crabcakes to be precise. I couldn't find them online, but you can get them at the grocery store for about $8 a box. They're all-natural and only have 80 calories each. And surprisingly, they're good! They're obviously not fresh and they're a little heavy on filler but the flavor was good and they were seasoned very well. I'll get them again.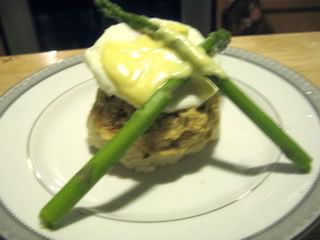 Anyway, for this dinner (which would also make an awesome brunch) I split a baking soda biscuit in half (don't be tempted to use a Pillsbury biscuit here- they're too light and buttery. You need a nice, dense biscuit), topped each half with a crab cake, topped that with a poached egg and some blanched asparagus, and a dollop of hollendaise. Not bad at all for something that took 15 minutes and no effort to make!
I don't remember where I learned this trick for making poached eggs, but its a good one. They come out very neat and you can cook more than one at a time! Here's my trick: line a teacup with saran wrap. Spritz with cooking spray and crack the egg into to cup. Gather the edges and twist. Pick up the egg, and it should be all contained in the wrap- like a bagged goldfish. Throw the bag into some water that's just below boiling. 2 minutes for a runny yolk, 3 minutes for a gelled yolk (still wet, but won't run), 4 minutes for well done. So Simple!!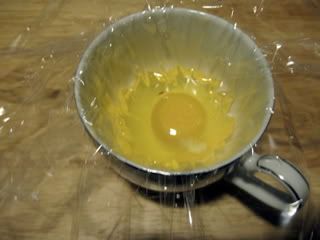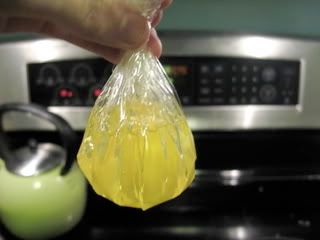 Shoutout!! My friend Sarah is having a contest for RAW bars. Chedk it out- her blog has some great meal ideas that will satisfy kids.

By