This month, Progressive Eats is hosting a virtual cocktail party in celebration of Barb's 3rd year of Cocktail Friday! Join us for appetizers, libations, and dessert and find out my thoughts on bourbon…
I'm not normally a bourbon girl. In fact, I've only ever ordered bourbon cocktails three times in my life.
The first time it was a special at a place that isn't exactly known for mixed drinks, but it sounded too good not to try. It was called a Northern Spy, and it was a combination of bourbon, apricot brandy, and lemon juice. To my surprise, I actually like it a lot.
The second time, was a complete accident. I was at a fancy-pants speakeasy that didn't stock any mainstream brands (they're way too cool for that.) Since I didn't recognize any of the liquor names, I took a gamble and chose my drink based on the other ingredients – boy was that first sip a surprise! It wan't my favorite, but it wasn't totally awful either. It grew on me as I drank more. I don't remember the details but I'm pretty sure it involved ginger beer and lemon juice. (Being a speakeasy, they don't exactly put the menu online.)
The third time was this past summer. After having several sips of Shawn's drink, I decided to order my own. It was basically a Manhattan topped with ginger beer and I don't know what I was thinking. I'm pretty sure I made him finish it for me.
This month, we're hosting a cocktail party for Progressive Eats and I really wanted to make something different.
This fall, one of my favorites has been apple cider mixed with white rum that I infuse with candied ginger and whole cardamom pods. It's refreshing and delicious. I almost posted that, but then I remembered liking the Northern Spy a lot, so I decided to play with that idea.
The sweetness of the apricot liqueur and tartness of the fresh lemon juice balances out the bourbon really well and takes away most of its bite. The original recipe is topped with sparkling wine, but I decided to take a cue from the other drink that I sort of liked and top mine with ginger beer instead. Apple cider + ginger beer + lemon juice is definitely a winning combination.
Served super cold over ice, it just might make a bourbon drinker out of me after all.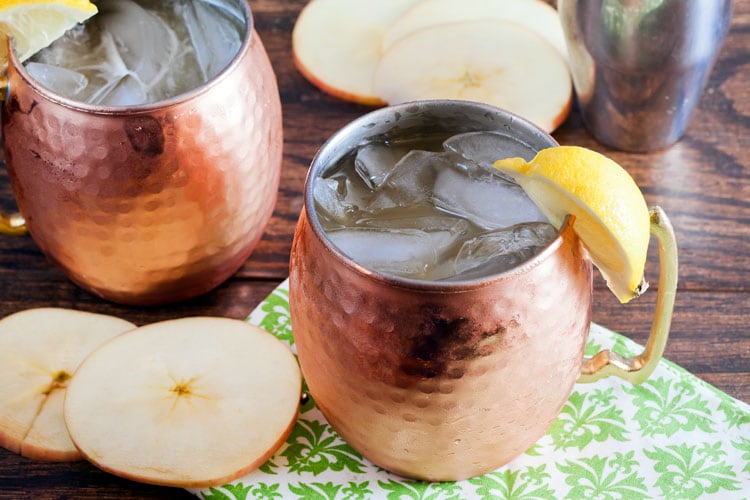 Appetizers
Smoked Salmon Roses with Endive and Creme Fraiche
Pepper Jelly and Brie Phyllo Cups
Beverages
Orange Pomegranate Moscato Cocktail
Desserts
Simply Caramel Chocolate Turnovers
Maple Cream Snickerdoodle Bars
Progressive Eats is our virtual version of a progressive dinner party. If you're unfamiliar with the concept, a progressive dinner involves going from house to house, enjoying a different course at each location. With Progressive Eats, a theme is chosen each month, members share recipes suitable for a delicious meal or party, and you can hop from blog to blog to check them out.
We have a core group of 12 bloggers, but we will always need substitutes and if there is enough interest would consider additional groups. To see our upcoming themes and how you can participate, please check out the schedule at Creative Culinary or contact Barb for more information.
GIVEAWAY!! This month's theme is a Cocktail Party celebrating Creative Culinary's 3rd year of Friday Cocktails. Be sure to hop over to Barb's post where she is giving away a gorgeous wine bottle opener to one of our Progressive Eats readers.