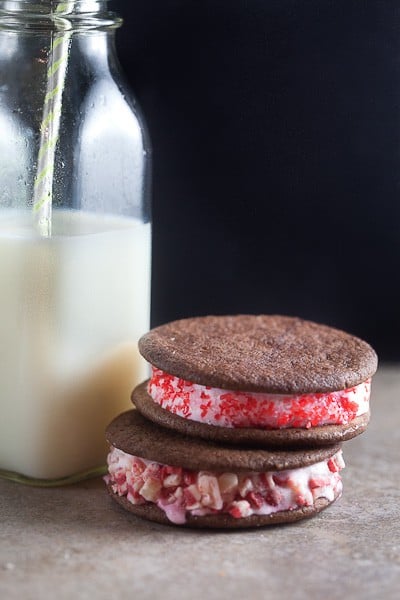 Yup, full on holiday baking mode had commenced. And I'm going to share it all with you this week. Ready for a flurry of posts? I have three great (and easy!) cookie recipes coming up for you today, Wednesday, and Friday. I'll throw in a panini recipe on Tuesday for good measure. Whew!
Last month, Pillsbury asked me to hep them create several new cookie recipes that start with refrigerated cookie dough. I spent a few days in the kitchen perfecting three recipes and I really can't pick a favorite, but these chocolate peppermint ice cream cookie sandwiches didn't last very long at all in our house at all. The ice cream in these means they probably won't work for your annual cookie swap, but that's okay – it just means there will be more for you! I made a half batch, and we gobbled up all 4 of sandwiches over the course of a weekend.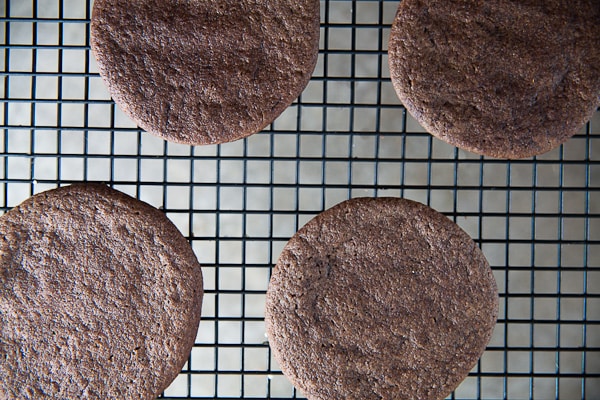 Start with refrigerated sugar cookie dough, then make it your own by kneading in cocoa powder. This is a really easy way to doctor up prepared dough – it gives them a nice chocolatey flavor, a gorgeous deep-brown color, and reduces their moisture content to help the cookies keep their shape when you bake them. You'll end up with thin chocolate wafers that are crisp on the edges and wonderfully chewy in the middle. You know that crackly top you get on a pan of good brownies? These cookies remind me of that.
Now, you can leave them like that and call it a day. No one will complain. But you could also dip half of each cookie into dark or milk chocolate. Or you can do what I did and stuff the cookies with peppermint ice cream to make a cookie sandwich that will give chipwich a run for it's money. Roll the edges in crushed candy canes, red anding sugar, or (my favorite) peppermint baking chips to make them look all fancy, then freeze them until they're firm. Try not to eat them all at once!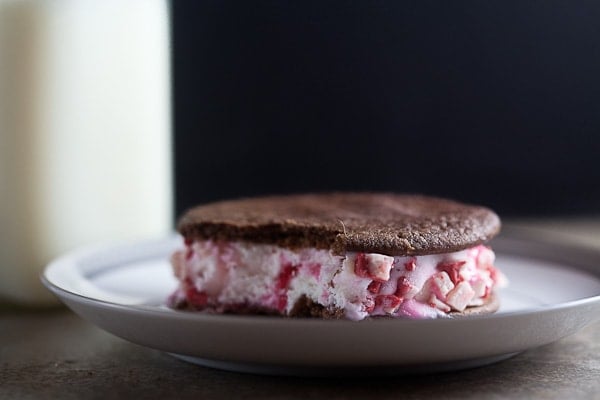 Chocolate Peppermint Ice Cream Sandwiches
These ice cream cookie sandwches are an easy to make treat the whole family will enjoy! For the neatest looking sandwiches, use the same cookie cutter that you used for the cookies – simply place it on the bottom cookie use it as a mold for the softened ice cream. Remove the cutter carefully before topping the sandwich with a second cookie.
Serves 8
Prep Time: 5 minutes; Total Time: 1 hour 30 minutes
Ingredients
1 roll (16.5 ounces) Pillsbury Refrigerated Sugar Cookies
1/4 cup Cocoa Powder
2 cups Reduced Fat Peppermint Ice Cream, softened
Crushed Candy Canes, Peppermint Baking Chips, or Red Sanding Sugar (optional)
Preparation
Heat oven to 350.
In large bowl, crumble cookie dough. Add cocoa powder; stir until combined.
On a piece of wax paper or parchment paper, roll dough to 1/8 inch thickness. Use a 1 1/2-inch round cookie cutter to cut 16 circles, gathering and re-rolling scraps as needed. Arrange dough pieces on a greased cookie sheet.
Bake 10-12 minutes or until done; remove to cooling racks. Cool completely, about 20 minutes.
Place 1/4 cup softened ice cream on each of 8 cookies. Top with a second cookie; press gently to distribute ice cream. Roll edge in crushed candy canes, peppermint baking chips, or sanding sugar. Freeze at last 1 hour before serving.
Disclosure: This post was brought to you in partnership with Pillsbury. I was compensated for my time creating this recipe. All opinions are my own.

By