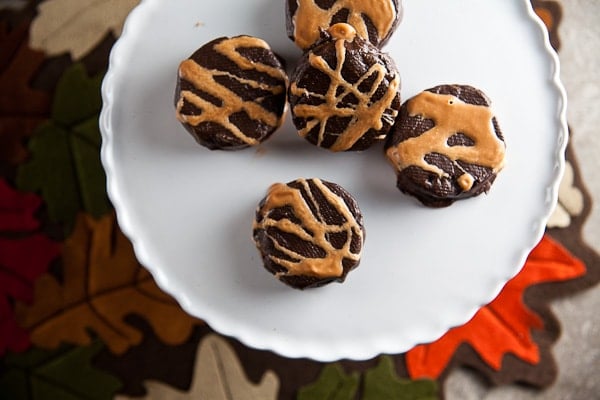 Before we get to these cookies, I'd like to make an announcement: my rockstar of a husband, Shawn, officially lost 75 pounds! As I've mentioned before, we both recommitted to Weight Watchers over the summer and he's been killing it. I promised/threatened that I would post here when he lost 75 pounds, and he did! I'm so proud of him!
It's kind of ironic that this announcement just happens to coincide with a post about an indulgent recipe like this one, but it's just further proof that you can eat food that tastes great and still be healthy/lose weight.
With that said, back to the cookies…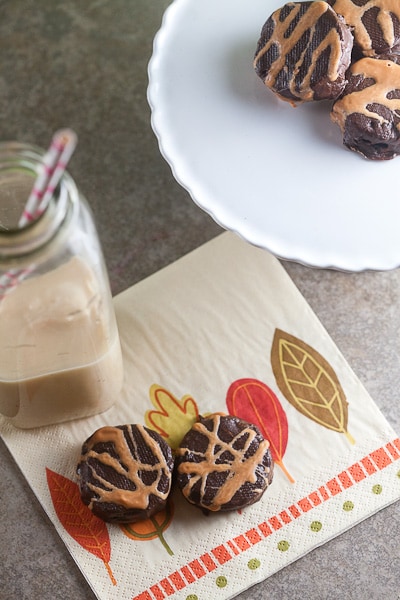 It seems like oreos comes in all sorts of shapes, sizes, and flavors these days but I can still remember when oreos were just oreos… except for that magical time of year when white fudge oreos popped up on grocery shelves. Everyone would clamor for them and they'd sell out so fast! We'd always get a box under the Christmas tree, and I remember one year when we each got our own box. I tried to ration mine out and make them last as long as possible.
Oreo and Kitchen Play recently teamed up to ask six bloggers, myself included, to "play up dessert with OREO." Those white fudge cookies were the inspiration for my contribution. Of course, it seems like you an get them whenever you want now, so I chose a flavor that's a little more special – chocolate peanut butter! If you've never had oreos and peanut butter before, you're really missing out.
These make a great sweet nibble after a heavy holiday meal, a unique contribution to a cookie exchange, or an easy yet impressive gift for that person who you just don't know what to get (or who you don't want to spend a lot of time or money on!). Plus, if you make them yourself before November 28, you'll be entered to win a great prize pack valued at $70. It includes a Crate and Barrel serving platter like the one shown here, a pie server, an OREO cookbook, and some other goodies. Check out Kitchen PLAY for all the details!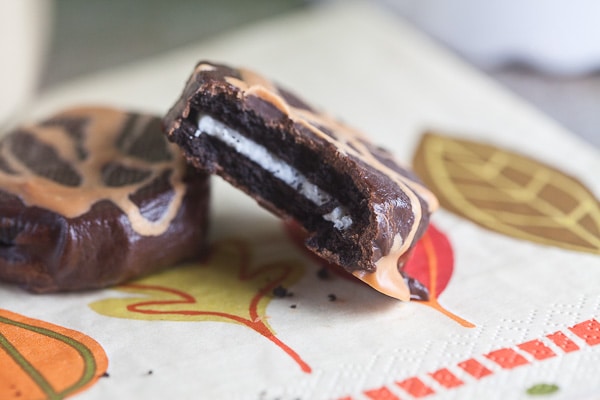 Chocolate Peanut Butter Covered Oreos
Yields 8
Prep Time: 10 minutes; Total Time: 10 minutes
Ingredients
1/2 cup Peanut Butter Chips
1 teaspoon Butter
1/2 cup Dark Chocolate Chips
8 OREO cookies
Preparation
Line a baking sheet with parchment paper or a baking mat.
Melt the peanut butter chips an butter in a double boiler or a pan set over very low heat. Remove two tablespoon of the melted peanut butter to a separate dish. Stir the chocolate chips into the pan and continue to cook over very low heat until melted.
Use a form to carefully dip each cookie into the chocolate-peanut butter coating, covering it completely. Gently shake of excess chocolate and place on the prepared pan. Drizzle with reserved peanut butter topping. Refrigerate until chocolate coating is set.
These treats keep best refrigerated in a covered container. They're also great when frozen!
This post was sponsored by OREO and KitchenPLAY. All opinions are my own.

By