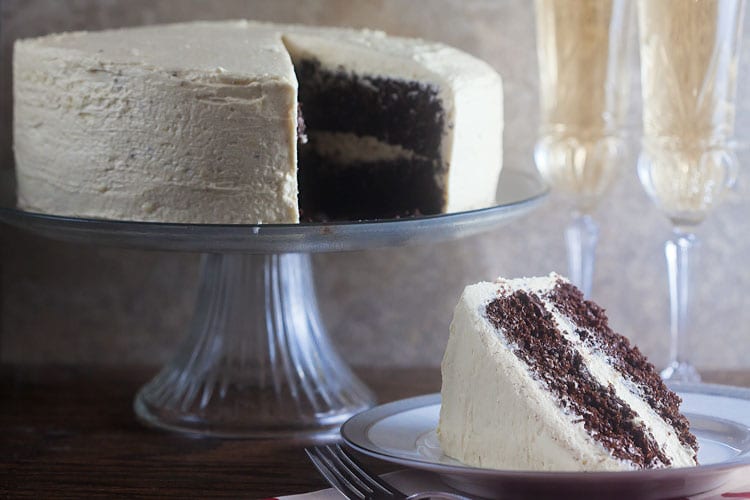 THIS CAKE. If there was ever a food so perfect that it could make time stop dead in its tracks, this is it.
If you're still searching for the perfect showstopper of a dessert for Christmas or New Year's, this is it: two layers of rich, chocolatey cake that's so good you'll have a hard time convincing people you made it from scratch (don't pretend you don't know what I mean) covered in the lightest, fluffiest, eggnogg-iest icing. I thought I was done with sweets for a while after that last batch of cookies, but this cake was totally worth it.
If I've learned one thing in the 30 years I've spent on this earth, it's that a frosted layer cake is almost always the first thing to disappear from a dessert buffet. True story! People talk a good game about cheesecake and even pie, but when it comes down to it layer cake always wins. So, go ahead and make a huge one – people will thank you. I used a 9-inch cake pan and made two layers. ("They" say a cake this size should serve 40; I say it'll feed about 22.)
Despite my love of layer cakes, I don't make them very often at all (I've posted maybe two or three on this blog). If you want to know why, it's because they're kind of intimidating. I get it. So before I baked this one I did a bunch of research and I think it helped a lot. It's still doesn't look perfect (I have a new respect for baking bloggers) but I doubt anyone will care – especially after they've tried a bite.
Here are a few of the tips that made assembling this cake a fairly painless process:
Wrap soaking-wet strips of fabric around the outside edge of yours pans before you put them in the oven (you can even buy special "even bake" strips for this). I don't understand the science behind this, but it makes your cake bake perfectly level – they won't dome up over the top of the pan. It makes the layers much easier to stack later on.
Take an extra minute or two to line the bottoms of your pan with parchment paper instead of just greasing them. Just trace around the bottom of the pan and cut out a circle (instead of trying to scrunch it in).
Let the cake cool in the pans for at last 30 minutes at room temperature. The pans should be cool enough to handle with your bare hands and the edges of the cake should start to pull away before you turn the cake out. If you rush things, the cake will be much more likely to stick.
"Invest" in an offset spatula instead of trying to use a butter knife or plastic spatula like I've done in the past. (I know, I'm so lazy. And cheap.) It's unbelievable how much easier this makes to get a smooth, even layer of frosting!
Do a crumb coat. We've all heard of them, but have you actually done it? Instead of one thick layer of frosting, it's so much easier to do two thin layers. The first one seals in the crumbs and, once it hardens a little, it's so easy to spread a second, pristine layer right over top.
Don't sweat the small stuff. It's cake. People will love it.
This post was sponsored by Gold Medal Flour. Thank you for supporting the brands that keep me inspired in the kitchen.