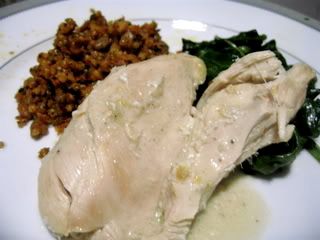 Last week, Faith over at the kitchn posted a recipe for a chicken roasted in milk and lemon. I knew immediately that I had to try this one, and Sunday was the perfect lazy, rainy day for a chicken. I switched it up a little by using coconut milk, which gave it a nice subtle coconut flavor.
This is by far the moistest chicken I've ever had. The bones literally fell right out when we tried to take it out of the pot! Which was nice, because it meant we got every scrap of meat that was to be had… since the chicken was only $4 to begin with (it would have been even cheaper, but I went with a natural/humanely raised/vegetarian fed bird) this meal was super cheap. I want to say we'll get at least 6 meals out of this.I served it originally with multigrain pilaf and sauteed spinach and then had leftovers on top of a salad with feta, kalamata olives, diced cucumber, and Newman's Own light cesear.
3.5 pound chicken
sea salt and cracked black pepper
2 T butter
1 T olive oil
1 cinnamon stick
palmful dried sage
zest of 2 lemons
6 cloves garlic (skins left on)
1 can coconut milk
1/2 can water
Preheat oven to 375. Season chicken with salt and pepper. In a pot just large enough to hold your chicken, heat butter and oil. Add chicken, and brown on all sides (if you plan to eat the skin relly cook it and get it nice and crispy; if you don't eat the skin just brown it a little for flavor). Remove chicken from pan and discard the leftover oils. Put chicken back into the pot along with the rest of your ingredients. Place a lid on the pot and put the whole thing in the oven for 90 minutes, basting occassionally. Remove chicken from pot and let sit for a few minutes. Serve with the cooking liquids spooned over top.
***
Have I ever mentioned that my dog's favorite toy is his stuffed lobster? He's pretty spoiled when it comes to dog food too- he definitely has his favorite flavors! How cute??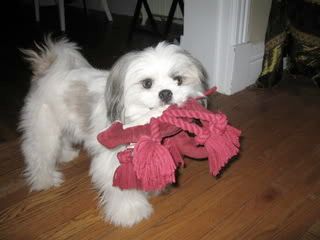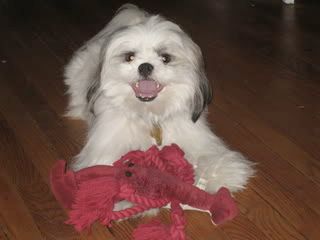 By