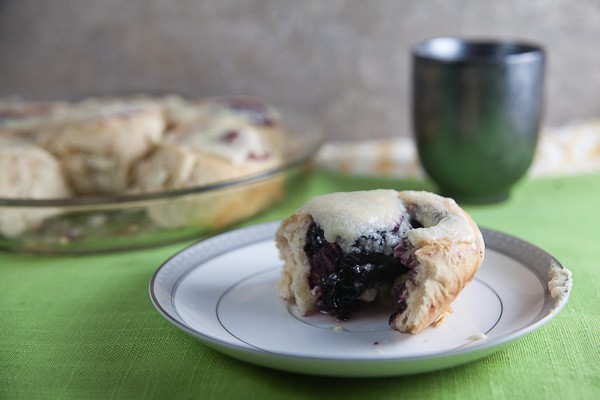 Holiday baking time is here! I've been craving cinnamon buns like crazy lately, but given that its the season of cookies, cakes, and everything sweet, all of that sugar didn't seem like the best idea. Instead, I made these cherry and eggnog breakfast buns.
I used a combination of whole wheat pastry flour and bread flour to keep the buns super soft and pillowy while adding a little nutrition. Then, I swapped out the traditional cinnamon-sugar filling for stewed cherries (similar to the ones I used in my mini cherry-almond turnovers). Using eggnog instead of milk in both the buns and the glaze gave these a rich, warm flavor and adding a little extra holiday spirit!
These would be perfect on Christmas morning! Get a head start on breakfast by making them through step 3 the night before, then bake them off in the morning.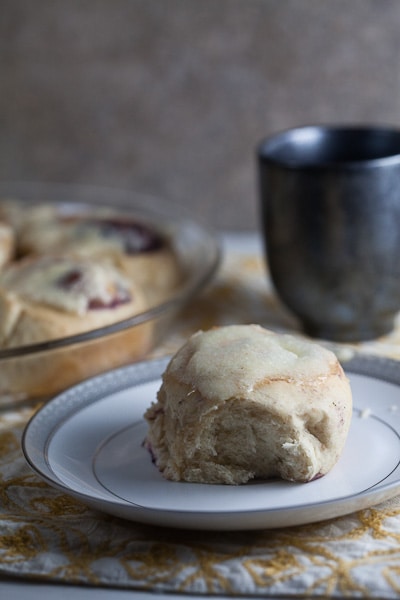 I used Hodgson Mills flours and yeast and these rolls, and am using them as my entry to their "Have a Grain Holiday!" recipe contest. And you have a change to win too! I'm giving away a Hodgson Mills gift pack that includes a 5 pound bag of whole wheat flour, a 2 pound bag of bread flour, a 2 pound bag of whole wheat pastry flour, and a few other goodies that will get you started on giving healthy makeovers to your own favorite holiday recipes.You can also click here for a coupon for $1 off. See below for entry information.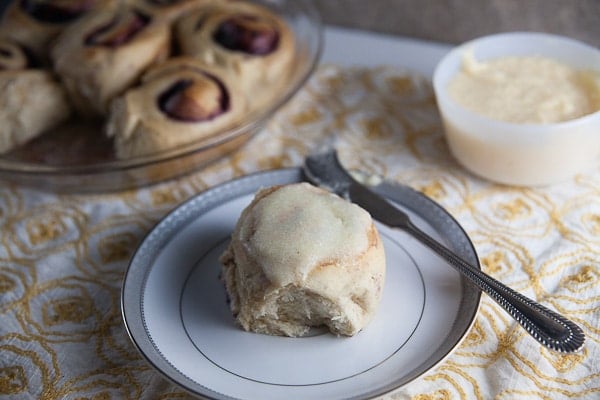 Cherry and Eggnog Breakfast Buns
Yields 12
Prep Time: 30 minutes; Total Time: 2 hours 30 minutes
Eggnog is notorious for being laden with calories and fat, but back in October I saw coconut milk nog at the local co-op and I've been totally obsessed ever since. This stuff is gooood! And only 90 calories per half cup, which is a huge improvement on even light eggnog.
Starting the buns in a cool oven means a slightly longer cooking time but prevents the outsides of the buns from getting to crusty, resulting in a super soft cinnabon-style bun.
Ingredients
1 cup Coconut Milk Nog or Light Eggnog, warmed
1 Egg, slightly beaten
1/4 cup Butter, melted
1/4 cup Vegetable Oil
1/2 cup Sugar
1/2 teaspoon Salt
2 cups Hodgson Mill Best for Bread Flour
1-1/2 cups Hodgson Mill Whole Wheat Pastry Flour, plus more for dusting
1 (1/4 ounce) package Hodgson Mill Active Dry Yeast
3/4 pound Frozen Black Cherries
1 Tablespoon Sugar
1 ounce Pomegranate Juice
2 Tablespoons Cornstarch
1/4 teaspoon Vanilla Extract
1/4 cup Butter, at room temperature
1-1/2 cups Powdered Sugar
1/4 cup Coconut Milk Nog or Light Eggnog
Preparation
In bowl of stand mixer fitted with a dough hook, add eggnog, egg, melted butter, oil, sugar, and salt. Mix until just combined. Add the flour and yeast. Mix on low speed until dough is very smooth and elastic, 10-15 minutes. Place dough in a greased bowl and cover with a wet towel; let rise in a warm place 1 hour or until doubled in size.
Meanwhile, prepare the filling: Add the cherries and sugar to a small saucepan over medium-high heat. After a minutes or two, the cherries with release their juices. Bring to a boil and cook 10 minutes, stirring occasionally to break up the fruit. Add the pomegranate juice and cornstarch to a small bowl or measuring cup. Stir to dissolve. Add to the cherries and boil 2 minutes, or until the mixture thickens. Remove from heat and stir in vanilla extract. Let cool completely.
Turn dough onto a lightly floured surface and roll into a 9×13 inch rectangle. Spread surface evenly with stewed cherries. Starting with the long side, tightly roll the dough; pinch the seam to seal. Cut into 12 equal slices and arranged in two greased pie plates, leaving space between each bun. Cover with a damp towel and let rise 30 minutes.
Remove the towels and place pans into cold oven. Turn on to 375F. Bake for 30 minutes or until lightly browned and cooked through. Cool.
Use hand mixer to beat together butter, powdered sugar, and eggnog. Frost buns as desired just before serving.
By