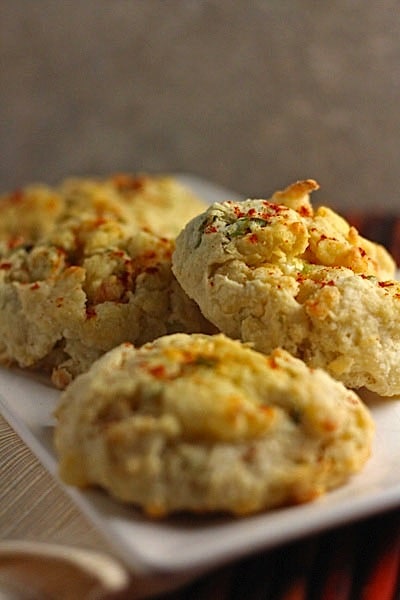 The effect that adding a simple biscuit has on a meal is amazing. These cheddar and green onion biscuits were an afterthought, but they transformed my end-of-summer corn chowder from an easy weeknight dinner destined to be eaten on the couch in front of the television to a meal that we enjoyed as we lingered around the dining room table. Bursting with flavor from melted cheddar, green onions, and garlic, I couldn't keep my hands off these biscuits! (Confession: I ate three.)
I don't usually advocate using low-fat or fat-free cheese because it can have a strange rubbery texture, but in this case go right ahead and use it if you want (you'll shave off about 10 calories and 1 gram fat per biscuit by using reduced-fat instead of full-fat). Because the cheese is mixed throughout the biscuit, you really can't tell the difference. Just do me a favor and don't buy the pre-shredded cheese in the bag: it's coated in starch so that it doesn't stick together and it just won't melt right. Plus, it tastes funny. It's well worth taking the extra minute to shred your own!
Cheddar and Green Onion Biscuits
2 cups flour

1-1/2 Tbs baking powder

1 dash salt

2 tsp sugar

1/2 stick butter

3/4 cup milk

1 cup reduced fat cheddar cheese, freshly grated

3 green onions, chopped

1/4 tsp garlic powder

smoked paprika
Preheat oven to 400F.
Mix together the flour, baking powder, salt, and sugar. Cut in the butter — the mixture will have a fine, crumbly texture with pea-sized lumps of butter. Gently mix in the milk, cheese, green onions, and garlic powder. Drop 1/4 cup portions of the batter onto a cookie sheet lined with parchment paper or a silpat.
Bake for 20 minutes, or until the edges of the biscuits turn golden brown and the tops are dry. Remove from the oven and dust with paprika.
Yields 12.
Approx. 150 calories, 6 grams fat, 0 grams fiber, 5.5 grams protein