Following a month of eating mostly take-out and a trip to the Foodbuzz Festival (where I ate pretty much everything in sight) I'm excited to be back in the kitchen, cooking up healthy recipes.
Choosing the first meal to cook was a difficult task: I was sick of carbs, tired of cheese (yes, it's possible!), and had my fill of meat. Soup seemed like the perfect solution, but Shawn was sick of that. I knew I was on to something when I spotted a can of chickpeas in the back of the cabinet — starchy, but not heavy like pasta, potatoes, or rice. It didn't take long to figure out what I wanted to do with them. This chana saag was exactly the kind of meal that I was aching for: warm, creamy chickpeas coated in a fragrant spinach sauce provided enough protein and fiber to keep me satisfied without leaving me stuffed.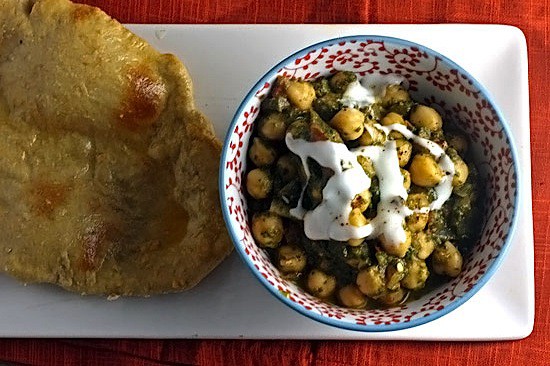 I hadn't made chana saag in years, and I had forgotten how easy it is! Start to finish, it will take you about a half hour and most of the ingredients involved are pantry staples, meaning this can be easily whipped up on a weeknight. A food processor makes pureeing the spinach sauce a breeze, but if you don't have one it can also be made successfully in a blender.
Looking for a vegan meal? Substitute silken tofu for the yogurt! You can also leave it out entirely, but it does add a nice touch of creaminess to the sauce.
Looking for a meat-filled meal? I encourage you to give the chickpeas a try. But if you insist, you can substitute two chicken breasts for the chickpeas. Just adjust the final cooking time to ensure that they're cooked through.
Chana Saag (Chickpeas with Spinach)
Serves 4-6
375 calories, 9 grams fat, 13.5 grams fiber, 18 grams protein

16 ounces spinach
1 inch piece of fresh ginger, grated
2 garlic cloves, minced
1 jalapeno, minced
1 cup water
1 Tbs olive oil
2 bay leaves
1/2 tsp black peppercorns
1 onion, chopped
3 plum tomatoes, chopped
1 Tbs garam Masala or curry powder
1 tsp chili powder
1 dash salt
3 Tbs plain yogurt (fat free)
2 cans (32 ounces) chickpeas, drained

1. Set a large pan over medium heat. Add the spinach and cover. Cook for 5 minutes, or until the spinach has softened. Add the spinach, ginger, garlic, jalapeno, and water to a food processor or blender and process to a puree.

2. Heat the oil in your pan. Add the bay leaves and peppercorns. Cook for one minute, then add the onions and cook an additional 5 minutes. Add the tomatoes and cook for 5 minutes, stirring frequently and breaking the tomatoes up with your spoon to help them form a sauce. Stir in the garam masala, chili powder, and salt.

3. Add the spinach puree and bring to a simmer. Stir in the yogurt.

4. Add the chickpeas and simmer for 10 minutes.

Serving suggestion: Drizzle with additional yogurt mixed with a pinch of chili powder. Serve with flat bread or rice.

*****

Do you have a great sausage recipe? Johnsonville is hosting an awesome recipe contest with $1,500 in prizes. The only catch is that your entry needs to be submitted by midnight TONIGHT. (Sorry for the short notice!) If you have a great sausage recipe, enter by clicking HERE. Good luck!

By