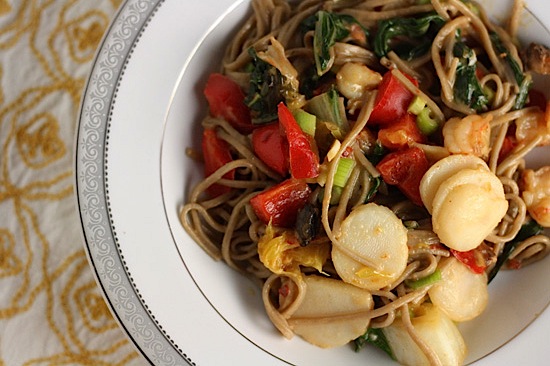 They say you shouldn't judge a book by its cover, and in this case I'm glad that I didn't. I'll be honest: Secrets of a Skinny Chef probably isn't a cookbook that would catch my eye if I was browsing around Barnes and Noble. The cover is a dull yellow-green color (I couldn't even take a decent photo of it!), the cartoon is kind of hokey, and there's something about the word "skinny" that really turns me off. But the description pulled me in – Jennifer Iserloh and I share a similar food philosophy that includes moderate portions of real foods, lots of veggies, and not falling victim to food fads. Plus, her recipe for mac and cheese loaded up with cauliflower sounded really good (ever since I made that gratin, I've been obsessed with the combination of cauliflower and cheese).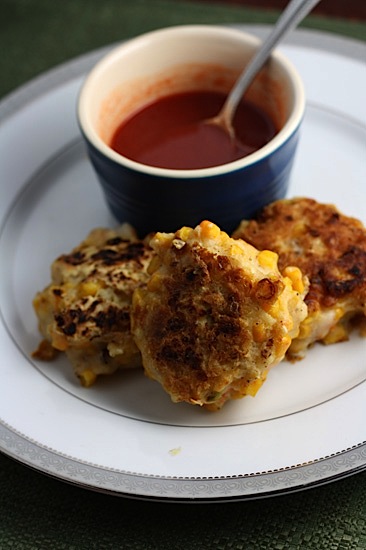 In terms of layout, the book is very no-frills. Although there is a small insert of photos in the middle, the rest of the book is printed simply in two colors with a few small illustrations here and there. So you'll have to use your imagination and actually read a little to decide which recipe's you want to try. Which might be a good thing because, if your like me, you probably don't usually bother to cook the recipes that don't have photos. And you just might be missing out on some good ones.
The book covers a really wide range of dishes, with chapters dedicated to everything from breakfast to side dishes to desserts. There are also some really cool extras, like a "skinny shopping list" and a section dedicated to using up leftovers. None of the recipes call for "diet" foods or specify that you use a specific brand of something, and all of them include nutrition information. The recipes are straightforward and easy to make — not intimidating at all for those of you who aren't "cooks." They don't involve complicated or expensive ingredients, and they're fast to cook up.
The first recipe that I made was the shrimp and corn fritters with sweet chili sauce. It was incredible!! The fritters were light and fluffy in the center, but crisp on the outside, and the seasoning mixture in them was unlike anything I've ever eaten. The sauce was a lot spicier than I expected, but it was full of flavor and paired perfectly with the fritters. The sweetness of the corn also went really nicely with the spicy sauce. One serving didn't look like much on my plate, but the three fritters (302 calories) and a side of asparagus was more than I could finish. I plan to make these again soon!
The second recipe I made was the mac and cheese that I mentioned earlier. Unfortunately, this recipe and I didn't get along very well. It was most likely my fault – I was in a horrible mood when I started cooking and it was late and I was cranky. But my pasta turned to mush and my sauce was more solid than creamy.
The last recipe I tried was the pork lo mein, hold the grease. While I wouldn't call this dish lo mein (the sauce wasn't what I was expecting) it was, again, an excellent dish. It was packed full of filling vegetables, and the sauce had a ton of flavor. I also really enjoyed the use soba noodles in this recipe. For 293 calories, this dish was not only much tastier than take-out, but much healthier too.
The verdict: Secrets of a Skinny Chef contains 100 healthy recipes that are easy and accessible to make. It may not appeal to the more experienced cook that is looking to be challenged and inspired, but it's a solid collection or recipes for more casual home cooks who are looking to eat healthier without sacrificing flavor. The recipes are family friendly, and I think they would also be great for parents who are trying to encourage their children t eat more vegetables (you might just have to tone some of the spicier recipes down a little).
Would I buy this book? A few years ago, I not only would have nought the book, but I would have cooked from it almost every day. I wouldn't buy it today, but only because my cooking skills have evolved and the books that I buy tend to be more specialized or "gourmet." I'll still refer to it though, and I have marked a few more recipes that I want to try. While I wouldn't buy it for myself, I would have no hesitation recommending it to a friend who was looking to lose weight in a healthy way or just wanted to learn how to cook without relying on processed foods.
Secrets of a Skinny Chef is available at
Amazon.com
for $13.49.
Disclosure: I received a free copy of this cookbook to review, but the opinions are my own.