At what point does a muffin become a cupcake?
I did some research and found a lot of answers, ranging from the ratio of flour and sugar to fat, to the method of combining the wet and dry ingredients, to my favorite – the sound it makes when you throw it against the wall. Then, if course, there's the old "does it have frosting?" method of deciding.
None of that answered the question of what to call these amazing little cakes. There's no frosting, but they're light and fluffy. They have a high ratio and sugar and fat, but the taste like muffins. Or do they? They definitely have a muffin-like thing going on, but they're sweet and delicate and light.
The BruCrew Life
, the blog I was paired with for this months
Secret Recipe Club
, calls them muffins though so that's what I'm going with. After all, it's her recipe and who am I to argue?
One again, I was "stuck" with a baking blog for SRC… this event is going to be the death of my diet! BruCrew had so many great recipes to choose from. I was thisclose to making her Berry Burst Oreo Scones (um, hi!) when these muffins caught my eye. Bananas? Coconut? Toffee?! Sold.
I thought about messing with them,using whole wheat flour or adding flax, but in the end I kept them almost exactly as written. The only things I changed were using reduced fat cream cheese instead of regular and crushing up Heath bars rather than buying both toffee and chocolate chips. I'm glad I stuck with the original recipe because good Lord are these good. They're seriously some of the best muffins (or cupcakes) I've ever had. The flavor is light and summery, the cream cheese keeps them moist and rich, and the texture is perfect. I've eaten 3 today. The rest are being brought to work tomorrow because I don't trust myself around the – I need them out of the house! If you're looking for a sure fire way to please a crowd, give these a try!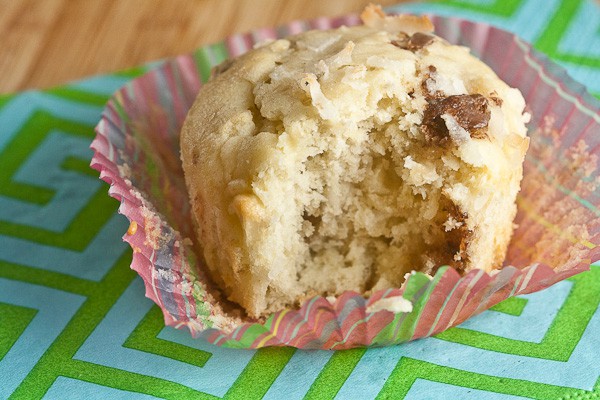 Banana Toffee Coconut Muffins
Yields 30 muffins
Prep Time: 10 minutesTotal Time: 40 minutes
Ingredients
4 teaspoons Kosher Salt
3/4 cupButter, softened
1 Package (8 ounces) Reduced Fat Cream Cheese
2 cups Sugar
2 Eggs
3 ripe Bananas, mashed
1 teaspoon Vanilla
3 cups Flour
1/2 teaspoon Baking Soda
1/2 teaspoon Baking Powder
Pinch Salt
1 cup Shredded Coconut
3 Heath Bars, crushed
Preparation
Heat oven to 350*F. Line 30 muffin cups with paper liners.
In a large bowl, cream together butter, cream cheese, and sugar. Beat in eggs and vanilla.Stir in the bananas.
Mix the dry ingredients in a second bowl, the gradually stir into the wet ingredients. Stir in the coconut and Heath pieces.
Using a Tablespoon or large cookie scoop, fill prepared muffin tins 3/4 full. Top with additional coconut. Bake for 25 minutes or until done.