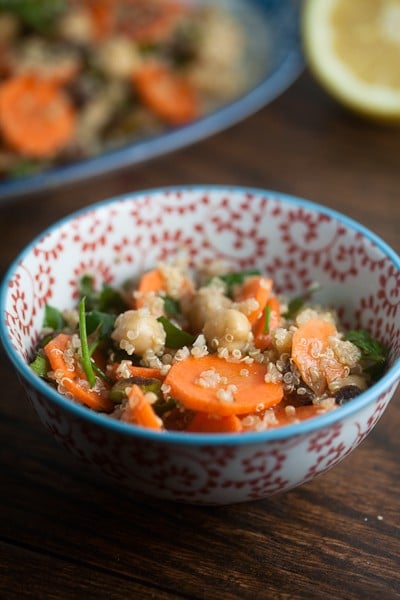 Before we get to this tasty salad, I'm sure you've already seen the news that Google Reader is being discontinued. And, if you're anything like me, you probably freaked out a little. I follow way too many blogs (hey, they're written by some of my best friends!) and using a feed reader is the only way I can keep them organized. There are tons of alternatives out there, but I really wanted something that has a feature similar to Google Reader's "next" button, which brings you right to each blog rather than showing the post within the reader interface. I spent the weekend testing out various options and found that I love BlogLovin. I actually started an account there a long time ago, but never got into it because it was too difficult to import all of my blogs. That problem is solved now, and you can import all of your Google Reader subscriptions in one click. Once you click on a new post, it brings you to that blog and puts a little bar across the top of your screen so that you can just keep hitting "older" and scroll through your new posts. Love it! If you're looking for an alternative, definitely check it out! And of course, I'd love it if you follow me on Bloglovin, too.
OK, back to the food. Last Saturday I went a little overboard at lunch (I had a craving for a gooey cheese quesadilla that I needed to satisfy!), so I wanted to make something a little lighter for dinner to balance it out. I wandered around Shop Rite without much of a plan, just pulling whatever healthy ingredients sounded appetizing into my cart. I ended up making an easy carrot, quinoa and pistachio salad. I served the salad with pita bread and baba ganoush, for a simple, yet very satisfying meal.
The salad itself is lovely, and really highlights the sweetness of the carrots and the grassy-clean flavor of the parsley. With crispy carrots, creamy chickpeas, salty pistachios, and chewy raisins, the salad really has a little something for everyone! The dressing, with roast cumin and fresh lemon juice, is the perfect combination of earthy and bright flavors.
The salad is great right away, but really excellent after it's been refrigerated overnight. I ate the leftovers for lunch all week, and the salad only improved with age. I can't wait to make it again!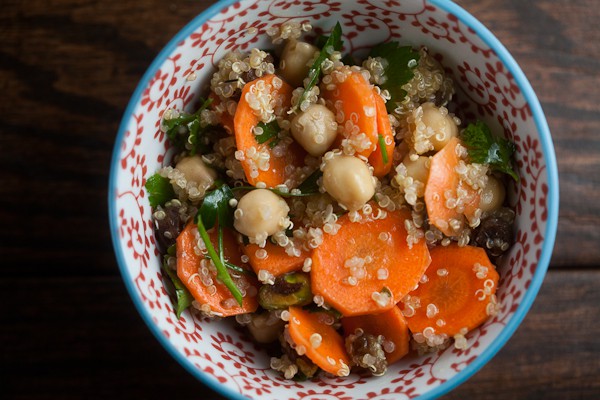 Looking for more quinoa recipes? Try one of these!