Salad with pizza is a pretty standard combination, but have you ever had salad on your pizza? This is one of my favorite things to do – even when we get take-out, I'll toss some lettuce in balsamic and throw it on top of my slice. The crisp bitterness of the greens and vinegar cuts through the richness of the cheese and makes the pizza seem less heavy. It also forces you to eat slower (you don't want to make a mess by dropping lettuce everywhere!) which I find helps me to eat less, since it gives me stomach a chance to signal that it's full. It's also a great way to sneak in some extra veggies!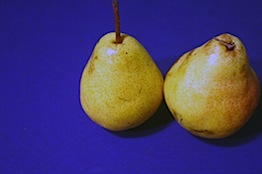 I haven't made a pizza in a while, and we thought it was about time for one. When deciding on what toppings we wanted, I decided to make a pizza-version of one of my favorite summer salads – pear, gorgonzola, and bacon. I can't stomach eating cold salad in the cold weather, so I thought this would be a fun way to have something salad-like in the fall and winter. It was! Caramelized pears, gorgonzola, and mozzarella melted beautifully on top of a whole wheat crust, and mache dressed in white balsamic prevented the dish from being too heavy or sweet. There's not really much more to say about this, other than that it was delicious, so I'll let the pictures do the talking.
Caramelized Pear and Gorgonzola Pizza
1 whole wheat pizza dough
2 Tbs cornmeal
2 strips bacon
1 pear, thinly sliced
4 oz. part-skim mozzarella, shopped
4 Tbs gorgonzola crumbles
3 cups mache
1 Tbs olive oil
2 Tbs white balsamic vinegar
cracked black pepper
Preheat oven to 400. If using a pizza stone (recommended), place it in the oven now.
Set dough in a bowl on the counter to allow it to rest and come to room temperature. While the dough rests, cook your bacon over low heat until very crispy. Remove from pan and crumble. Swirl the pan around so that it's covered with bacon grease, then pour as much grease out as your can. Add pears to the greased pan and cook over low heat until the soften and begin to brown. Remove from heat.
Sprinkle a pizza peel or cookie sheet with cornmeal. Stretch the dough into a round the size of your pizza stone (or whatever size you desire) and place on top of the cornmeal. Top with mozzarella and pear slices. Sprinkle gorgonzola over pizza, breaking up the larger crumbles with your fingers so that it spreads over the entire thing. Transfer pizza to stone or place cookie sheet into oven. Bake for 10 minutes, or until cheese is melted and crust is cooked.
While the pizza is baking, toss the mache with the oil and vinegar. Add black pepper to taste.
Remove pizza from oven and top the dressed greens on top. Cut into 6 slices.
Yields 6 slices.
Each slice: Approx 235 calories, 8.5 grams fat, 2 grams fiber, 11 grams protein