I owe you all an apology – meat-free Fridays seems to have gotten away from me a little bit. I know that a lot of you really like that series and a few have asked where it's gone. I didn't mean for it to disappear, I just haven't been good at remembering to plan a post for it. I PROMISE a new meat-free recipe will be posted next Friday – and it won't be a dessert either.
This butternut squash hash was initially supposed to be my meat-free meal for this week. But you see, I had bacon. And when I have bacon, it seems to find it's way into everything I make, until it's gone. As I was chopping the vegetables for this, I thought to myself "you know what would make this better? Bacon." And there went my meatless meal. BUT in its place I got an amazing meal that I will be making again as soon as possible. I really liked the bacon in this – the crispiness and saltiness contrasted really nicely with the soft, sweet squash. But if you really want, you can leave it out.
The inspiration from this meal came from the menu at
Lento
. Lento is a great restaurant in Rochester, NY that revises their menu just about every day in order to make the best use of local, in-season products. I like to check out their menu whenever I'm in need of a little inspiration. A few weeks ago, I noticed that they were serving a butternut squash hash and I couldn't get the idea out of my head because it sounded so wonderful. I'm sure mine was significantly different than theirs, but it was fabulous nonetheless – very possibly one of the best Fall recipes that I've developed. The vegetables were tender with little crispy bits, and the sweet/salty/spicy flavor was spectacular. The dish was also substantial without being too filling, and was surprisingly low in calories.
I topped my hash with a fry-poached egg. Amazing! This is a technique that I read about over at The Kitchn not too long ago, and it's absolutely brilliant! You start to fry an egg in the pan like normal, but once the white sets add a few tablespoons of water and put the lid on until your yolks are cooked to your liking. You end up with nice crispy edges like you would get with a traditional fried egg, but the beautiful yolk of a poached egg.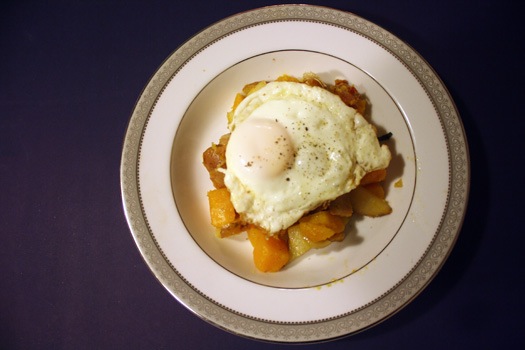 Butternut Squash Hash
1/4 lb bacon, chopped
1/2 medium yellow onion
1 medium butternut squash, peeled and deseeded
2 small red potatoes
6 ounces light beer (I used MGD 64)*
4 leaves fresh sage, chopped
salt and pepper
habanero hot sauce (or your favorite hot sauce) to taste
Set a large sautee pan over medium-low heat. Add bacon. Cook slowly, allowing fat to render off, until crispy.
While the bacon cooks, prepare vegetables by chopping the onions and cutting the squash and potatoes into a medium dice (about 1/2″). You should have about three cups of squash. Add the onion to the pan with the bacon and cook until softened. Add squash, potatoes, and beer. Increase heat to medium-high. Cook, stirring occasionally, until potatoes and sauce and beer is evaporated. Add sage, salt and pepper, and hot sauce. Cook another minute or two.
* If you don't want to use beer, substitute chicken or vegetable stock, or apple cider.
Serves 4
Approx. 156 calories, 4 grams fat, 5.5 grams fiber, 5 grams protein